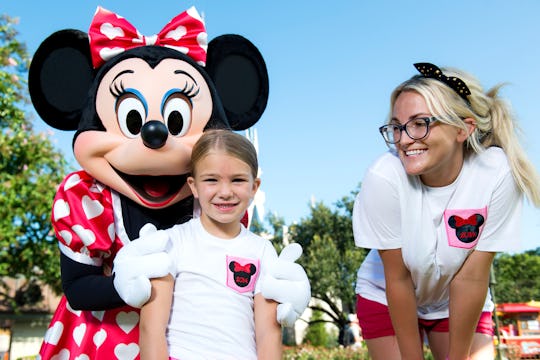 Handout/Getty Images Entertainment/Getty Images
Jamie Lynn Spears' Daughter Is Out Of The Hospital
On Friday afternoon, actress and singer Jamie Lynn Spears' daughter, Maddie Aldridge, was released from the hospital after an ATV accident put her in critical condition. Maddie was seriously injured after she flipped her off-road vehicle into a pond, and was underwater for a few minutes.
According to TMZ, Maddie was riding her ATV while on a hunting trip in Kentwood, Louisiana when she took that terrifying spill on Sunday afternoon. She lost consciousness and was airlifted to a nearby hospital. At the time, Maddie was reported to be in critical condition, but that status changed to "critical but stable" as of Monday morning. Her aunt, pop star Britney Spears, took to Twitter on Wednesday to let fans know that the 8-year-old girl had regained consciousness.
E! reports that Maddie's stepfather, Jamie Watson, broke the news of her release on Instagram Friday with the caption:
Thanks to the amazing first responders (sic), and medical teams at University and Children's Hospital in New Orleans, LA, we are headed home with our baby girl as she continues to recover. Above all else we are so thankful for each and every prayer, because we know that is what truly made the difference. Thank you again to everyone. We are truly blessed🙏
Maddie Spears' frightening accident this past weekend has raised questions about ATV use among youth. Although states have different laws dictating age limits, ATV Safety Institute strongly recommends that children under the age of 16 are supervised while riding age-appropriate ATVs. After all, ATVs are unstable, hard-to-control vehicles that can easily rollover and get into collisions. Research has shown that ignoring safety rules and failing to wear protective gear while riding motorized or single-track vehicles can be fatal if an accident occurs.
Just consider these statistics: riders under age 16 comprised 28 percent of all ATV-related injuries in 2015, according to the U.S. Consumer Product Safety Commission. Of those accidents, 50 percent involved kids younger than 12 years old. The CPSC also states that, in that same year, riders under the age of 16 accounted for 17 percent of ATV fatalities, of which 55 percent were under the age of 12.
It's heartening news to know that Maddie Spears has been released from the hospital and will continue to recover at home with her loved ones. But her horrifying accident should be a reminder to parents across the country that failing to follow the safety rules can be costly.