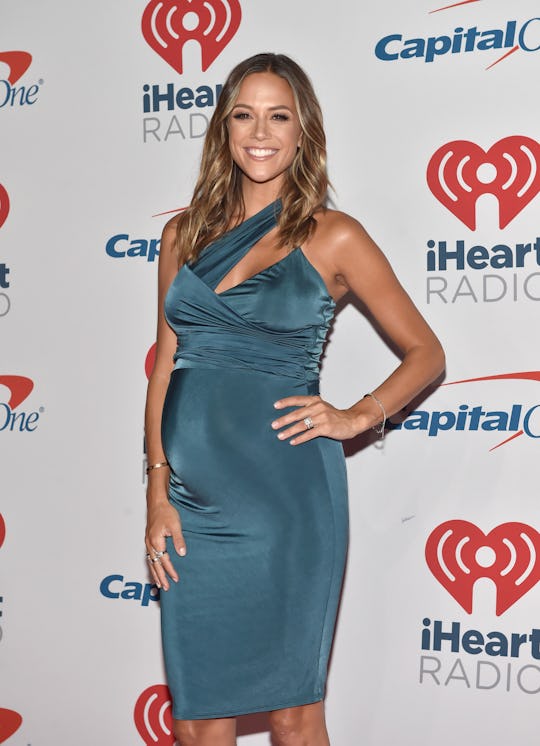 David Becker/Getty Images Entertainment/Getty Images
Jana Kramer & Her Daughter's Photoshoot Celebrates The New Big Sister
Last week, actress and singer Jana Kramer's family of three became a family of four. But after welcoming her baby boy, she made sure to take some time out to spend with her almost-3-year-old daughter. In fact, while she was still in the hospital, Jana Kramer and her daughter did a photoshoot together, and it's so sweet.
Kramer and her husband Mike Caussin became proud parents to Jace Joseph Caussin on Thursday, Nov. 29. She posted a few photos of baby Jace on Instagram to announce his arrival, but on Saturday, she sent a clear message to her daughter Jolie, who will turn 3 in January, that adding a baby brother into the mix will not weaken their bond. Kramer posted two gorgeous photos of herself with Jolie in the hospital, smiling together in her hospital bed. "Me and my sweet girl. I never knew a heart could love like this. #beyondblessed #heartfull," she captioned the shot.
When a family welcomes a new baby, it's easy to turn all the focus towards the crying, screaming, pooping tiny human. But Kramer wants Jolie to know that she is still going to give her the same love and attention, and these special photos will be something they can look back at for years to come.
And on the same note, Caussin made sure to have a daddy-daughter outing with Jolie over the weekend, while Kramer and baby Jace rested up at the hospital. On Sunday, Kramer posted a photo to her Instagram story of Jolie posing with a caricature drawing of herself, taken while out with her dad.
As Kramer noted in the caption of her photos with Jolie, photographer Kara Coleen snapped the special shots. Coleen is also responsible for a lovely photo of baby Jace that Kara shared earlier this weekend.
"Welcome to the world, Jace Joseph Caussin. Our hearts our so full," Kramer captioned a photo of herself, her husband, and their baby. "Thank you to all of our friends and family..and all of you who have supported Mike and I, and our growing family. We are so blessed."
After that announcement post, Kramer added the hashtag "#rainbowbaby." A rainbow baby is an infant born after the loss of a baby, whether it's due to miscarriage, stillbirth, or death, as explained by The Bump. About a year ago, Kramer opened up about suffering several miscarriages in a heartbreaking Instagram post. But then six months later, she proudly announced that she was expecting yet again. "I'm so excited," Kramer told People in June, about finding out she was pregnant. "We lost in October and then we did an IVF cycle and we lost in February, so I want to be able to be like, 'Hey, I know it's hard but just try to have some hope.'"
Kramer and Caussin seem so over-the-moon to be parents of two, and it will be exciting to continue to witness their journey as mother and father.
This first-time mom wants to have a home birth, but is she ready? Watch how a doula supports a military mom who's determined to have a home birth in Episode One of Romper's Doula Diaries, Season Two, below. Visit Bustle Digital Group's YouTube page for the next three episodes, launching every Monday starting November 26.