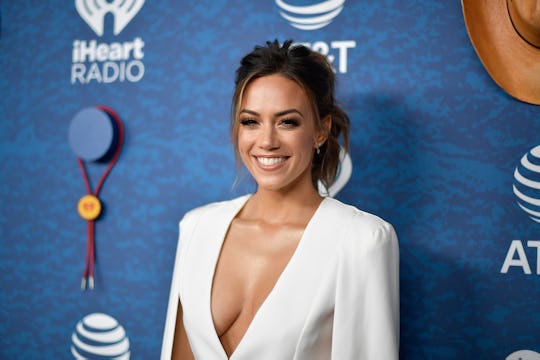 Matt Winkelmeyer/Getty Images Entertainment/Getty Images
Every Parent Of Multiples Will Relate To Jana Kramer's First Trimester Struggles
The first trimester of pregnancy can be one hell of a struggle at the best of times, especially if you're one of those people who gets stuck vomiting all the time. It's pretty tough to go about your daily routine if you can't keep anything down and spend much of your time with your head stuck in a toilet. And if you happen to have a sweet little toddler running around in the background? I mean... forget about it. In a recent vlog on YouTube, Jana Kramer talked about her own first trimester struggles while also dealing with a 2-year-old, and parents of multiples will all get it.
The One Tree Hill alum and country singer recently announced that she and her former NFL player husband Mike Caussin are expecting their second baby later this year. The couple, who were married in 2015 and reconciled after a split in 2016, are already parents to 2-year-old daughter Jolie, according to Us Weekly.
Kramer took to Twitter on Monday to share a picture of the smiling family with the caption; "Surprise! We have a rainbow baby on the way & couldn't be more excited! Jolie is going to be a big sister & we're becoming a family of 4!"
Kramer is naturally overjoyed with the news that their family is expanding, but there's a bit of a drawback: morning sickness. She shared her experience on her vlog Episode One: The Big Announcement, where she was seemingly trying to eat a bowl of cereal and admitted that she would be "seeing that later," presumably in the toilet when she vomited it back up, according to People.
The pregnant mom said she was "so sick," and pointed out that her daughter was currently being entertained by the television, as People reported. Much like so many moms out there who put so much pressure on themselves, she was feeling a little guilty about that. According to People, she explained in her vlog:
And I just feel like a bad mom because I have no energy and I've been puking 24/7. I feel like I'm doing a bad job, but I'm just doing the best I can at the moment.
Morning sickness is incredibly common for pregnant women, especially in the first trimester, according to NPR. I'm not sure why it's called morning sickness since it can happen at any time of the day, but there it is. It's not harmful to the pregnant mother or her unborn child, but if it does persist throughout your pregnancy or is incredibly severe you should speak to your doctor. Since Jana Kramer seems to be past those early days of her pregnancy, here's hoping the morning sickness doesn't last long.
While Kramer might be having a heck of a time keeping her cereal down and trying to find enough energy to deal with a busy toddler, I have a strong suspicion she's pretty happy about her situation. She and her husband have struggled with multiple miscarriages, according to Us Weekly, so this pregnancy must feel rather special to them both. As Kramer told the publication in May:
My body just went through so many hormonal changes and I was like, "There are so many women that feel this way right now and they feel alone too." It's frustrating, but what I've realized is, it's truly a miracle to have a baby and it's all in God's timing and hands. If it's meant to be, it will be.
At the end of the day, morning sickness truly sucks. Especially when you have a toddler who needs your attention and you're feeling hormonal and worried about how you're going to manage to do it all. But it's really, totally worth it.