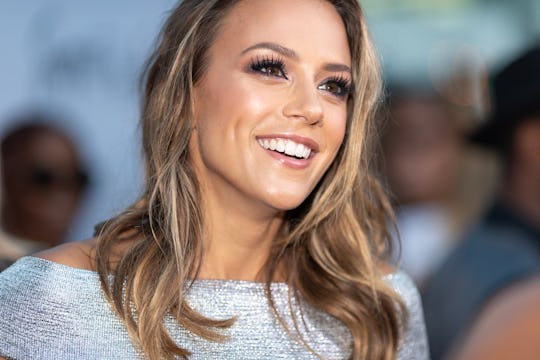 Christopher Polk/Getty Images Entertainment/Getty Images
Jana Kramer Was Body-Shamed Just Days After Giving Birth
I'm sorry to tell you this, particularly during the holiday season, but people can be mean. Like, really mean. Even to a woman who just had a baby, which seems next level terrible if you ask me. It's a pretty awful place to be if a woman who recently had a baby doesn't get some sort of free social media pass, especially in those vulnerable first few weeks when they might feel particularly easy to bruise, both emotionally and physically. Fortunately, at least one mom isn't going to take it. Jana Kramer's response to critics on Instagram was an emotional, heartfelt reminder that everyone feels wounded by personal attacks. Even celebrities.
The former One Tree Hill star initially shared a picture of herself with husband Mike Caussin getting ready to go record her Whine Down With Jana Kramer podcast at I Heart Radio just one week after giving birth to her second child and first son, Jace Joseph Caussin. Little Jace joins big sister, 2-year-old Jolie. So it's probably hard enough heading back into work when your baby boy is just one week old, but Kramer and her husband gamely posed for a picture on her way into work. Because why not keep it positive, right?
Apparently not everyone agrees with the concept of keeping things positive. Kramer was called out for looking too good after giving birth, with Instagram users accusing her of hiring a personal chef and getting a tummy tuck (both of which, by the way, would be a totally acceptable choice for anyone to make, so not sure why they're considered accusations). Kramer was clearly so distraught over the accusations that she shared this picture of her postpartum belly on Saturday.
Kramer wrote a lengthy post about her experience with being publicly shamed after giving birth as per People:
A few things because honestly I'm so frustrated and I need to vent this. I wanted to post this photo (showing my stomach) because I wanted to show my journey back to healthy and my goodness I'm so glad I didn't which is why this photo is now cropped. It's amazing the comments and how rude some people can be from my last photo I took yesterday. A few things, no I didn't get a tummy tuck, no I don't have a personal chef, no I don't have fortunes so I didn't train everyday. Yes I had a c section, yes I am still in pain and on meds but I do have a high pain tolerance. I have had 3 stomach surgeries before this (appendix, gallbladder, and c section).
She went on to point out that she was wearing a "belly bandit" and high-waisted pants, but also noted that it was sort of ridiculous that she felt the need to defend herself. Because every new mom's journey is different, and no one owes anyone an explanation, as she wrote on Instagram:
Why do we women have to compare ourselves to each other and then shame? ... Our bodies are all beautiful and created differently, they heal different, they react different, they simply look different. Why do we need to shame someone for not looking a certain way? Or feel bad about ourselves for looking a certain way?
There does seem to be an "open season" attitude about the way people talk to moms who are in the public eye. Because I doubt anyone would say this kind of thing to a woman they would have to see on the street. So maybe that's the key... the next time you want to write a nasty message to a new mom, take a beat. Think about how you would feel if you ever had to meet them.
Then go get a cup of coffee and knock it off.
This first-time mom wants to have a home birth, but is she ready? Watch how a doula supports a military mom who's determined to have a home birth in Episode One of Romper's Doula Diaries, Season Two, below. Visit Bustle Digital Group's YouTube page for the next three episodes, launching Mondays in December.