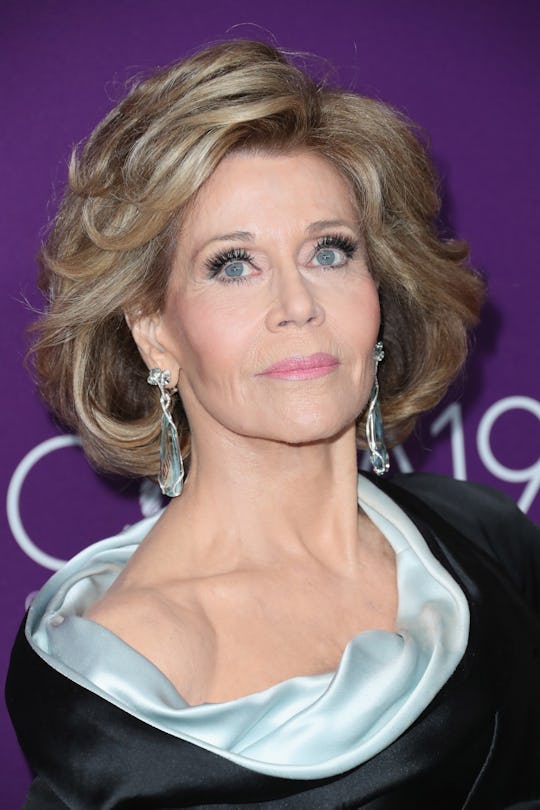 Frederick M. Brown/Getty Images Entertainment/Getty Images
Jane Fonda Reveals Heartbreaking Childhood Details
Jane Fonda has been famous for most of her life. The daughter of a beloved actor, herself a performer from a very young age, she has been in the spotlight for the better part of 50 years as an actress, a health and fitness guru, a forthright feminist, and an author. And yet, she's managed to keep a heartbreaking secret through all of those decades. In a recent interview to commemorate International Women's Day, which will be held March 8, Fonda revealed she was sexually abused as a child. And her story is far too familiar.
Fonda was interviewed by fellow Oscar-winning actress and sexual abuse advocate Brie Larson for Net-A-Porter's The Edit. In the interview, Fonda was refreshingly honest about her life her fear of aging, her "flawed" parenting, and her inability to say no to parts as a younger woman for fear of being rejected entirely. But the 79-year-old Oscar-winner had an even more open revelation to share: She told Larson she had been raped as a child:
I've been raped, I've been sexually abused as a child and I've been fired because I wouldn't sleep with my boss and I always thought it was my fault; that I didn't do or say the right thing.
Fonda went on to tell Larson that she found a way to stop taking the blame for being victimized through the women's movement:
I know young girls who've been raped and didn't even know it was rape. They think, "It must have been because I said 'no' the wrong way." One of the great things the women's movement has done is to make us realize that [rape and abuse is] not our fault. We were violated and it's not right.
This isn't the first time Fonda has opened up about how sexual abuse has touched her life; in 2014 she shared the story of her mother's rape during a speech at the 40th anniversary of the Rape Treatment Center. Fonda said she had been writing her memoirs when she discovered her mother, Frances Ford Seymour, had been sexually abused as an 8-year-old girl (Seymour committed suicide when her daughter was just 12 years old):
The minute that I read that, everything fell into place. I knew why the promiscuity, the endless plastic surgery, the guilt, the inability to love or be intimate, and I was able to forgive her and forgive myself.
As a well-known and deeply committed activist and feminist, Fonda's generosity in sharing her story of sexual abuse is more important now than ever. When actors with troubling histories of harassment allegations are celebrated at the Academy Awards despite their reported history, when Donald Trump becomes president despite being accused of sexually assaulting multiple women, when other alleged abusers continue to enjoy success in their careers, it is voices like Jane Fonda's that need to be heard above the din. Because we've all been afraid as women, we've all been unsure, we've all felt vulnerable. No more.