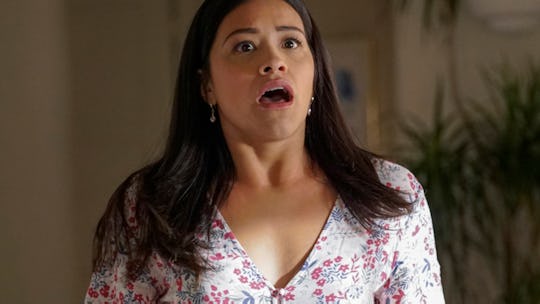 Kevin Estrada/The CW
These 5 'Jane The Virgin' Final Episode Theories Will Make You Cry Actual Tears
Since its premiere in 2015, Jane the Virgin has been one of my favorite guilty pleasures — until I realized it wasn't one. Although the CW series had its fair share of soapy moments, I genuinely fell in love with the satirical telenovela for its honest storylines and depictions of Latinx culture and family. Now, with the series finale airing on Jul. 31, I'm preparing myself with these Jane the Virgin final episode theories. Because, let's face it, I know my heart is going to be shattered when the show ends, and I have to say goodbye to characters I've grown to love for the past five years.
Before I dive into the theories, let's start off with what's confirmed in regards to the two remaining episodes, "Chapter Ninety-Nine" and "Chapter One Hundred." According to Variety, showrunner Jennie Snyder Urman revealed the series finale of Jane the Virgin will focus on giving the Villanueva family a happy ending.
"Part of the reason this final season was structured as it was was so we got through some of the bigger dramatic, emotional swings early on," Urman told the publication. "And then we could get back towards building their romantic ending and the ending where the family's at."
I'm not crying, you're crying. It seems like fans will receive a heartfelt goodbye in the finale, and quite frankly, it's well deserved. That said, remember you're watching Jane the Virgin, and anything could happen in the final moments. So let's dive into these series finale theories, shall we?