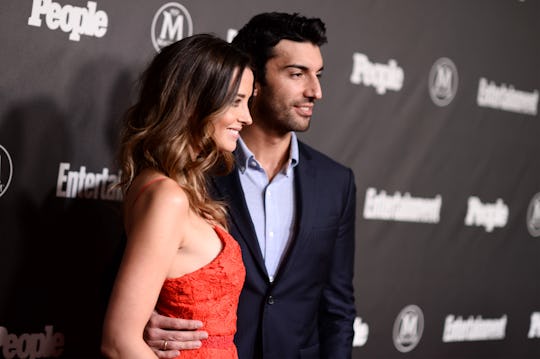 Dave Kotinsky/Getty Images Entertainment/Getty Images
'Jane The Virgin' Star Justin Baldoni & Wife Welcome Baby No. 2!
The Jane the Virgin extended family just got a little bit larger this week, as Justin Baldoni and his wife welcomed baby number two. He and his wife, Emily told People that their newborn son, Maxwell Roland-Samuel, was born on Wednesday and that his big sister, 2-year-old Maiya was stoked to have a little brother. They added that she was already helping out on diaper duty and "giving him tons of kisses."
The new parents told People that baby Maxwell showed them that "it was possible for our hearts to double in size … again." The 33-year-old actor announced Emily's pregnancy in May with an Instagram post, saying "Surprise!! With insane amounts of joy, gratitude (and yes, lets be real, a tiny bit of fear) … Emily, Maiya and I are thrilled to announce that our little family is GROWING!!! WHOHOOOO!!!!!!!"
He added, "Baby Baldoni #2 is currently cooking in the most beautiful, thoughtful, kind, and compassionate oven on the planet." His announcement read, "with so much darkness in the world, there's nothing like the announcement of brand new, pure and innocent life to bring joy to the hearts of the people we love so much." Obviously, it's not just Maiya showering Maxwell with kisses.
Baldoni and his wife were rightfully nervous about how Maiya would react to the new baby and it's still way too early to tell. Earlier this year, Baldoni told People that he hoped Maiya would be a "nurturing and caring" big sister. But they were realistic about it likely taking some time for the toddler to adjust. The new mom told the publication, "We have to be okay with her going through that transformation, and I feel in my gut that she's going to handle this role beautifully."
According to People, she added, "She's a little nurturer, she's very generous, she's very loving. I think she's going to be an amazing big sister, but we have to allow however long she takes to get used to this."
To prepare her, the couple said that they talked to her a lot about what was going on in her mom's belly and that the baby was going to be a little brother. And they tried to spend as much time together as possible in the lead up to the birth as a little family of three. But it was chaotic for them, too. Baldoni pointed out that when celebs talk about babies it always sounds a lot easier than it is for other families. He said in the same interview:
I think it's important to talk about because, generally, you read articles like this and it's really cute — "Oh, we love our nursery" and, "Oh, we're really happy" and, "Oh, life is beautiful" — but in reality, all of us are scared out of our minds, we're stressed, things are crazy. We're figuring this out like everybody else.
Baldoni's been anxiously waiting for Maxwell's arrival. When he, Emily, and Maiya announced that they were expecting a boy, Baldoni cried at the reveal. He wrote in an Instagram post at the time, "It's hard to explain, but I feel like my entire life has been about getting ready for this experience and yet at the same time I feel completely inept and not ready to be a dad again."
Raising a son and daughter is a particularly special experience for Baldoni, as he's really interested in challenging gender norms. Right now, he's creating a men's talk show that he hopes will change the way people think about gender stereotypes, especially masculinity.
As Refinery29 reported, he defended the all-men panel talk show, saying, "Men in our society have been socialized to suppress their feelings. We want to challenge men to open up and be okay talking to each other, and more importantly, form deep and meaningful relationships."
Baldoni will definitely be able to get good fodder for the show now that Maxwell's arrived in his life.
Watch Romper's new video series, Romper's Doula Diaries:
Check out the entire Romper's Doula Diaries series and other videos on Facebook and the Bustle app across Apple TV, Roku, and Amazon Fire TV.