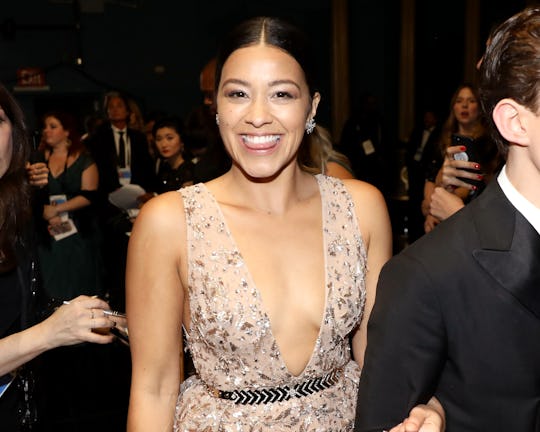 Handout/Getty Images Entertainment/Getty Images
Gina Rodriguez Is Funding An Undocumented Student's College Tuition, & It's Beyond Inspiring
It's a dream surely every television star has considered in their lifetime; winning an Emmy. I mean, is there any greater accolade in the world of television than an Emmy? A Golden Globe, I guess, but otherwise... it's all about that Emmy. The thing is, winning an Emmy takes a considerable amount of money. You've got your wining and your dining and your schmoozing. These promotions are called "For Your Consideration" funds, according to The Hollywood Reporter, and studio heads typically fork over the dough to cover the bill. But Jane The Virgin's Gina Rodriguez is funding an undocumented student's college tuition with the funds instead. Because yes, she's that wonderful.
The star of CBS' hit series has already won critical acclaim, fan accolades, and Rodriguez won the 2015 Golden Globe for Best Actress in a Musical or Comedy. Jane The Virgin just wrapped up its fourth season complete with rivalries, huge twists, and even one character who came back from the dead. And Rodriguez is still absolutely hoping to win an Emmy, as she told The Hollywood Reporter; she's just not willing to squander a bunch of money on "FYC" promotions.
And so, she proposed something more worthwhile. Something that would make a significant difference in someone's life.
As Rodriguez told The Hollywood Reporter:
Our show has always jumped at any opportunity to help me do something for the Latinx community. So I asked my showrunner, Jennie [Snyder Urman], if we could do something different with the money this year.
Rodriguez, who has served on the Hispanic Scholarship Fund board since 2015, was given the green light by CBS TV Studios to use the funds towards a college scholarship for an undocumented high school student, according to The Verge. She teamed up with Big Brothers Big Sisters of the Greater Los Angeles area to find the right candidate, and was able to fund a 4-year program of study at Princeton University for a young woman, according to The Verge. Rodriguez didn't share any personal information about the recipient, according to Mic, other than to say that she would fortunately be able to study without financial burden.
As happy as Rodriguez is that she chose to take the money for her Emmy campaign and put it to better use, she admitted that she struggled with the idea of sharing her good deed with others. As she told The Hollywood Reporter in that same interview, according to E! News:
It's taboo to talk about the money being spent, but it's the reality. I think sharing this might inspire other people to do something similar. You can desire recognition and, at the same time, decide to not play in the confines of the game as it's set up.
Now before you go thinking that Rodriguez might have won so many awards that this wasn't much of a sacrifice, that is not the case. She has never even been nominated for an Emmy, as The Verge reported, if you can believe that. So sacrificing that funding was genuinely a sacrifice.
That being said, Rodriguez definitely understands something about the financial burden of student loans. During a 2017 interview with Stephen Colbert, she admitted that it took her 11 years to pay off her student debt... and that's with an award-winning television show under her belt. People reported that she told Colbert, "College education is so expensive, but it's so necessary. I would never change it for the world but yes, it took me way too long."
After the past few weeks of terrible news about undocumented immigrants and asylum-seekers being detained at the southern border, of children of migrants being separated from their parents, this is the sort of thing people need to hear about right now. A story of kindness, of sacrifice, and of empathy.
Rodriguez fully understands the need she helped to fulfill with that money. And hopefully her good deed will encourage others to pay it forward, no matter how big or small the deed.