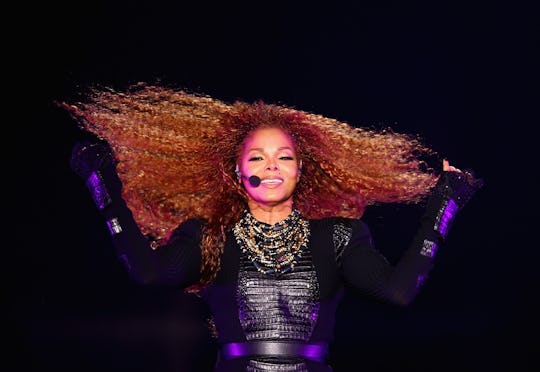 Francois Nel/Getty Images Sport/Getty Images
Janet Jackson Releases 'Dammn Baby' Just A Day After Pregnancy Rumors
You guys! You've heard the news, right? Janet Jackson, at almost 50 years old, is pregnant with her first baby. While Jackson probably won't be talking about the baby anytime soon — she's so private that it took her years to confirm her marriage —she let fans in on just a little of her happiness with the release of a perfectly timed new single. Janet Jackson released "Dammn Baby" on Twitter just a day after news about her pregnancy broke, and that's about as much confirmation as we're likely to get.
Is anyone else ridiculously happy for her? I mean, I've known Jackson (known in the fan sense) my whole life, practically. I rooted for her as she struggled to "Control" her own destiny, sang along as she asked her deadbeat boyfriend "What Have You Done For Me Lately?" and worried about her in the wake of the death of her brother, Michael. And now, Jackson is showing every woman in the world just how good pregnancy can look on a 50-year-old, and once again, I'm totally smitten with the soft spoken rebel with killer dance moves.
"Don't let anybody tell you what you can't do, shut that down automatic. And I guarantee they'll fall in line," Jackson sings on "Dammn Baby." A sentiment a 49-year-old first time mom must have run up against quite a bit.
Fans first caught wind something was up when the diva had to cancel her most of her Unbreakable World Tour dates to get rest on doctor's orders. In a public video, she said she and her husband were working on growing their family. Now those close to the star are saying that all that planning and rest has worked, because she's pregnant.
As a fellow mom who struggled to get pregnant and had to wait much longer than I would have liked to become a mother, I can't help but be over-the-moon excited for Jackson and her billionaire husband, Wissam Al Mana, whom she married in 2012. Sure, she's going to be a little older than some of the other moms in her play group, but that's not a bad thing. Older moms, like Jackson, who finally have their babies after years of waiting, have a whole different outlook on motherhood than others who had an easier time getting pregnant earlier. In my experience, when you've decided to wait to have children or couldn't get pregnant as early as you'd like, even the most mundane mom jobs take on a whole new significance, because of all the months and years you've spent dreaming of diapers and late night feedings and little balled up fists winding themselves around your hair. There's something about an older mother that brings just a little extra spark of joy and gratitude, and I can't wait for Jackson to experience for herself.
In the meantime, Jackson is celebrating her little one in the most Janet Jackson way possible — by singing and dancing about it. "Dammn Baby" indeed.