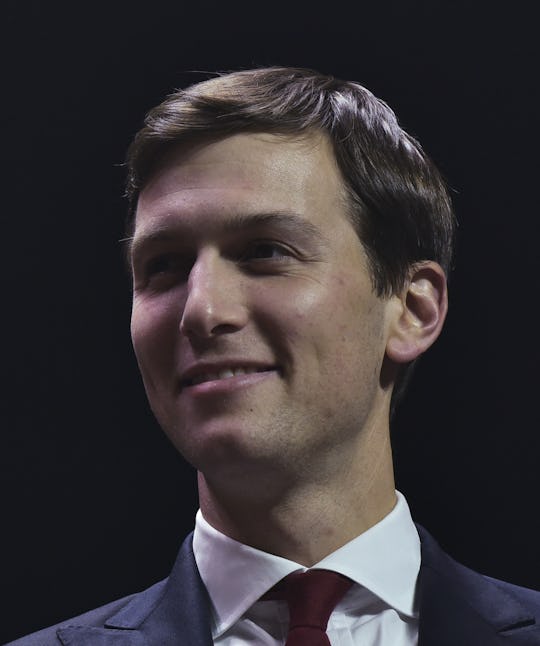 MANDEL NGAN/AFP/Getty Images
Jared Kushner Admits Trump Team 'Struck A Deal' With Sinclair Media Group & It's Not OK
I have bad news for y'all; it appears that Ivanka Trump's husband Jared Kushner has indeed been drinking the Kool-Aid. Kushner has been a top adviser in President-elect Trump's campaign, and apparently plans to continue despite already having one heck of a cushy job as the owner of his own real estate development company, Kushner Companies. Whether or not The Donald will want him to continue since he publicly admitted that the Trump Team made a deal with Sinclair Broadcast Group for "fair" coverage in the media is another story.
Kushner was reportedly speaking at an off-the-record meeting in the Morgan Stanley cafeteria when he was overheard by several people making comments about his work with the Trump transition team, according to Politico. He admitted that the Trump Team "struck a deal" with the Sinclair Broadcast Group, which owns television stations across the country, wherein Trump would make himself available for interviews during the 2016 presidential election, if the those interviews were broadcast without any sort of commentary. President-elect Trump has frequently taken to Twitter (which is usually his media of choice) to call out mainstream media and what he has deemed the "unfair coverage" he's received throughout his presidential campaign. And let's be honest here... we all thought that Breitbart News was going to become the state-run media outlet.
Sinclair Broadcast Group vice president of news Scott Livingston told Politico that it did, indeed, extend an offer to Trump to provide "fair" coverage in exchange for interviews, but also said that offer was extended to former Democratic nominee Hillary Clinton as well.
Our promise was to give all candidates an opportunity to voice their position share their position with our viewers. Certainly we presented an opportunity so that Mr. Trump could clearly state his position on the key issues. Our commitment to our viewers is to go beyond podium, beyond the rhetoric. We're all about tracking the truth and telling the truth and that's typically missing in most political coverage. It was a standard package, but an extended package, extended story where you'd hear more directly from candidate on the issue instead of hearing all the spin and all the rhetoric.
While Clinton did not offer them any interviews, Trump did give half a dozen himself, which were broadcast across all the Sinclair affiliates. The Washington Post reported in 2014 that the Sinclair Broadcast Group offers "must-air" packages for their affiliates, and that those news pieces tend to be conservative and critical of Democrats.
Which could be the reason why Trump decided not to work as closely with CNN; Kushner reportedly said in the Morgan Stanley cafeteria that the panel discussions on the news site were slanted towards Clinton during the election, and that the Trump Team felt mainstream media outlets like CNN and The New York Times had become far less important than social media sites like Facebook (which has come under fire recently for sharing fake news). Kushner allegedly went on to talk about the Trump phenomenon, how the election cycle has changed him and the way he views the "amazing Americans" at Trump rallies. One attendee noted to Politico:
Here he is with 400 elites, CEOs of the banks, those are his people. He's among his people, but he's speaking this Trump-like language.
Yep, it's for real. Jared Kushner has been drinking the Kool-Aid. Luckily, not everyone else has. While Kushner doesn't see any problem with the notion of a president making deals with biased media outlets in exchange for access, not everyone else agrees. State-run broadcasts; no thanks.