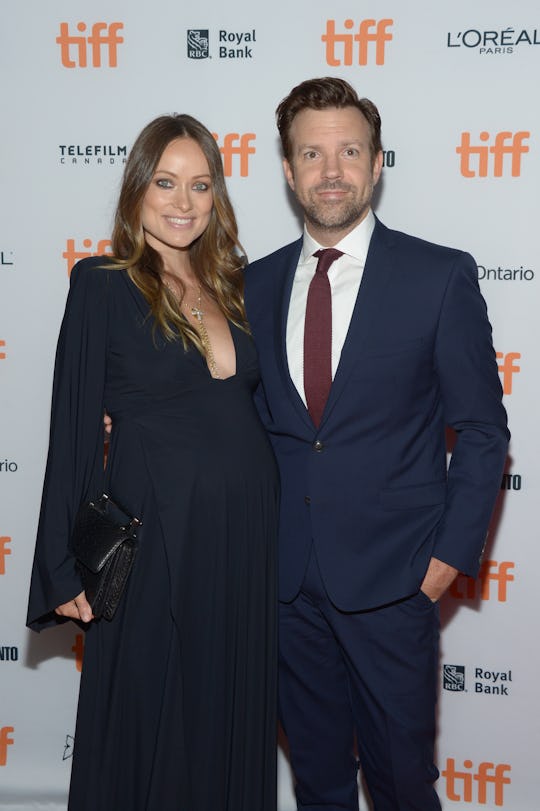 Matt Winkelmeyer/Getty Images Entertainment/Getty Images
Jason Sudeikis Is A Bad Ass Feminist Dad
Jason Sudeikis and his fiancee have it all; great careers, amazing bone structure, two little children, and our undying devotion. They are one of those couples who manage to be the perfect amount of low key fabulous, all faded jeans and easy t-shirts and sardonic grins. And just when you thought you couldn't love the Saturday Night Live alum any more, Sudeikis calls Wilde a great role model for their daughter Daisy. Probably over a cup of strong Fair Trade coffee and a homemade donut, or something. And now we're all jealous, even if that's not terribly becoming.
Sudeikis and Wilde have two children; son Otis Alexander is two-years-old, and daughter Daisy was born in October. Sudeikis spoke to People about being the father of a daughter now as well as a son, saying:
My joke, when we had Otis was, at least, having a boy, I have a better understanding of how I'm going to screw him up. But with a little girl, I mean, she couldn't have a better role model in [fiancée Olivia Wilde] and my sisters and Olivia's sisters and our mothers.
Not that Sudeikis negates what strong female influences can mean for his son, of course; after all, little Otis just had a Beyonce-themed birthday when he turned two, according to his dad. And you don't get much stronger than Queen Bey (who sent Otis an autographed picture of herself when she heard he was a big fan).
Sudeikis, who wisely identifies himself as a feminist, went on to tell People:
And then, me being at a point in my life where I'm smart enough to recognize that and to stay out of the way of anything, I think is a sign of masculine evolution on my part. And I'm going wave that flag freely and as high as I can hold it. But it doesn't change anything yet because I am a feminist. Or as Maisie Williams, who I've worked with, would say, 'I'm normal.'
And that, right there, is what makes Sudeikis so refreshing. To acknowledge that he's a feminist without looking for any sort of kudos, to honor not only his fiancee as a role model, but his mother and her mother and the rest of the women in their family... just yes. All day, yes.
The 41-year-old father of two went on to explain that he hopes to do his best by his daughter, and felt "lucky" to be in her life before she heads out into the great, big world.
I don't think, it doesn't make me any more decent because I had a daughter. I was lucky to get there ahead of her introduction to the world, and I hope to maintain that and stay on her good side for as long as I can.