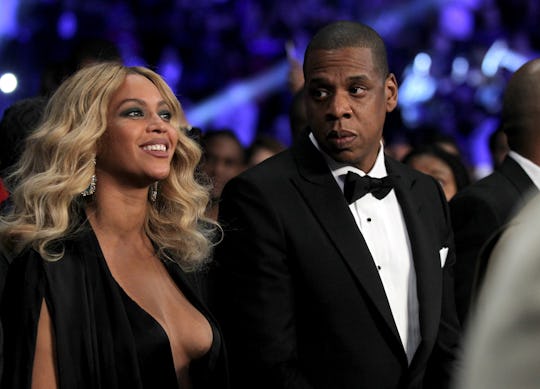 Isaac Brekken/Getty Images Entertainment/Getty Images
Jay Z Addresses 'Lemonade' In New 'All The Way Up' Remix, But Fans Want More
Can Jay Z and Beyoncé just film a reality show already? Beyoncé already gave the world an unprecedented look into the power couple's marriage with her visual album, Lemonade, which seemed to detail the struggles the pair went through after Jay Z's alleged infidelity. (Lemonade could very well be a more general metaphor or could be about Beyoncé's dad.) And now, Jay Z has responded to Lemonade, sort of, according to Entertainment Weekly. In a remix of "All the Way Up" by Fat Joe, Jay Z hops on the track for a verse, and references the album in the following line: "You know you made it when the fact/Your marriage made it is worth millions/Lemonade is a popular drink and it still is." Yes, and? Tell us more, Jay!
The rest of the verse follows a more typical rap theme, celebrating Jay Z's wealth and success. There are the obligatory references to gold, champagne, and hangers-on. He even manages to sneak in a line bragging about how his streaming service, Tidal, has the rights to the late Prince's catalog: "Prince left his masters where they safe and sound/We never gonna let the elevator take him down." But unfortunately, the rapper's not spilling any more tea about his marriage right now.
This is what 200 channels has done to us. The Real World gave way to Newlyweds: Nick & Jessica, which gave way to Keeping Up With the Kardashians, and suddenly, fans feel entitled to know every gory detail about the lives of a couple they've never even met. Even people who aren't fans of the two are curious. Go ask you mom her theory on who "Becky with the good hair" is; I bet she has one.
It's especially frustrating given the background of Beyoncé and Jay Z in particular; the two are notoriously tight-lipped – Beyoncé almost never gives interviews – but they're not shy at all when it comes to their music; Bey's "Drunk in Love" gave fans a very clear picture of what it's like inside the couple's bedroom (and had everyone Googling "surfboard" the day after it dropped). They give with one hand and take with the other. They refuse to talk about Solange and Jay Z's infamous elevator fight, then Beyoncé drops an entire album that many fans say is about Jay Z cheating. Is it any wonder fans want to know more? But letting it all hang out would be overkill, and clearly the two are masters at controlling their images. Jay Z couldn't stay silent on the worldwide phenomenon that is Lemonade forever, but all he gave fans was a taste, and I doubt there's much more coming. It seems that the first rule of the Jay Z-Beyoncé brand is, always leave them wanting more.