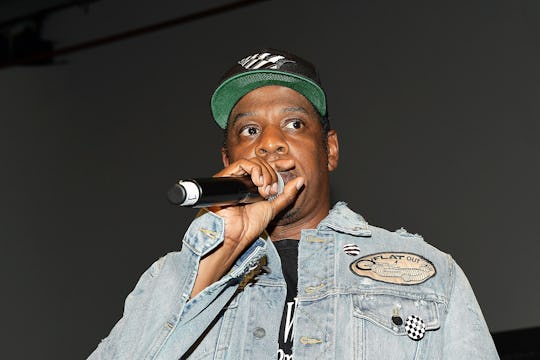 Matt Winkelmeyer/Getty Images Entertainment/Getty Images
JAY-Z Just Explained How The Twins Got Their Names & It All Makes Sense Now
JAY-Z is notoriously ambivalent about giving interviews. He's not a fan of the sound bytes, those little nuggets that get taken out of context or warped or changed to fit someone else's message. Still... the 4:44 rapper and business mogul is a proud dad, and finally decided to open up just a little bit about his new babies (also known as the twins heard 'round the world). During an interview on the TIDAL podcast Rap Radar, JAY-Z explained how the twins got their names. Now we can all sleep tonight, finally.
He and his wife, a little known musician named Beyoncé, welcomed twins, daughter Rumi and son Sir, to the world in July. They joined big sister, five-year-old Blue Ivy, and instantly became just about the most famous people in the world without even uttering a word. On account of they can't talk yet. Neither JAY-Z nor Beyoncé have been opening up about the new babies much, until the "Empire State Of Mind" rapper decided to sit down for the second part of his Rap Radar podcast interview with Elliott Wilson (TIDAL editorial director, culture and content, hip-hop) and Brian "B.Dot" Miller. After dishing the dirt last week about his infamous feud with fellow rapper and former friend Kanye West, JAY-Z moved on to the subject we all actually care about; Rumi and Sir.
JAY-Z confirmed with the radio hosts that his daughter's name was, indeed, derived from his and Beyoncé's favorite poet as was suspected by many, according to People:
Rumi is our favorite poet, so it was for our daughter.
Beyoncé's mom Tina Lawson might have let the cat out of the bag on that one, considering her Instagram post from July 15 when she quoted the 13th century poet Rumi:
But young Sir's name was a mystery that has now been solved; it seems his own forthright personality was the driving force behind his moniker. JAY-Z admitted:
Sir was like, man, come out the gate. He carries himself like that. He just came out, like, Sir.
That's one heck of a name to live up to, but if Sir is anything like the rest of the Carter family, I'm sure he's up to the challenge. After all, his older sister Blue Ivy is already a seasoned freestyle rapper.
She contributed to 4:44 with an epic freestyle rap, and her "Boom shakalaka" hook left everyone shook, including her dad. He told Rap Radar:
She kept doing that 'boom shakalaka, boom shakalaka.' I was like, 'Oh, she understands the concept of a hook. She's 5, and she understands the concept of a hook. I was like, 'What the f— is going on here?' One of the great memories.
JAY-Z rounded out the interview by saying the whole family would be joining him on tour in October, because he wasn't willing to be away from his family for any stretch of time.
We've come a long way since Lemonade, right guys?