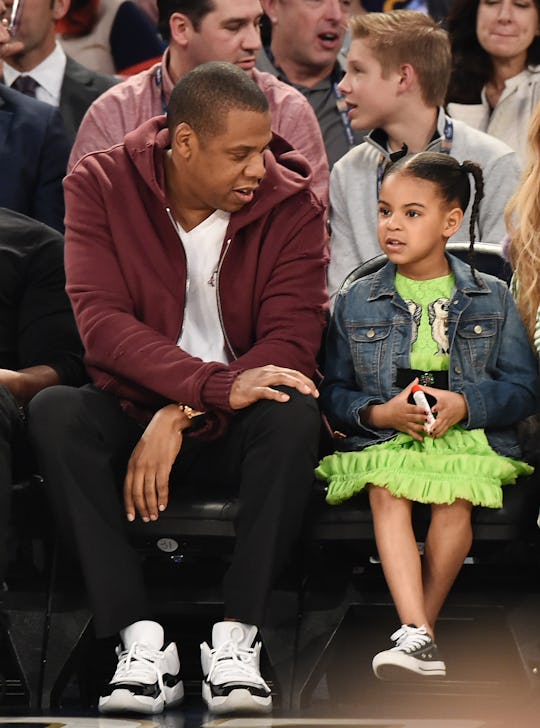 Theo Wargo/Getty Images Entertainment/Getty Images
JAY-Z Released A Video For "Blue's Freestyle," & It's A Sweet Birthday Tribute To His Daughter
For most 6-year-olds, a cake-and-ice-cream birthday party with dollar store loot bags is pretty much the dream (I mean, my newly-minted 5-year-old just about lost it we told her she'd get to go to Chuck E. Cheese), but when you happen to be the daughter of JAY-Z and Beyoncé? Well, it's pretty safe to say that your birthday gifts are going to blow everyone else's right out of the water. Blue Ivy Carter already impressed the world after appearing on "Blue's Freestyle" — a bonus track on JAY-Z's 2017 album, 4:44 — but on Sunday, JAY-Z released a video for "Blue's Freestyle" exclusively on TIDAL in honor of her 6th birthday, and unsurprisingly, it's totally awesome.
The video, produced by Art Life Studio, shows an animated version of Jay and Bey's eldest daughter performing at a talent show. The young tutu-clad girl is introduced to the stage as "Blue Ivy, the ballerina," according to Complex, and her famous parents watch proudly from the audience, along with her twin siblings, Rumi and Sir, snoozing comfortably in a monogrammed blue pram. But after Blue walks to the center of the stage on her pink pointe shoes, it's clear she has no intention of actually doing pirouettes. Amid gasps from the crowd, Blue flips her hair back, grabs a mic, and begins to demonstrate exactly what it means to be born into hip hop royalty.
In the video — which is available in full for TIDAL subscribers — young Blue stands on the stage rapping, clearly following in her famous father's footsteps. And while the crowd (including her parents) seems completely shocked by what they're witnessing, that quickly gives way to the response she rightly deserves: cheers and praise from one seriously impressed audience. In fact, even Rumi and Sir get in on the action, cooing and waving their arms from underneath their baby blankets, before Blue ends the number with a totally confident mic drop.
The video definitely isn't the first time though, that Blue Ivy has made an appearance in a TIDAL exclusive. In December, she joined her mother, as well as a string of other big names (Michael B. Jordan, Jessica Chastain, Thandie Newton, Trevante Rhodes, Brie Larson, and Rosario Dawson, just to name a few) in a nearly eight-minute-long, Ava DuVernay-directed video for the track, "Family Feud," according to Billboard. And the result was clearly way more than just a simple music video.
The clip starts out in the year 2444, with Thandie Newton as a murderous queen exacting revenge on her power-hungry son, played by Jordan. There's a war that gives way to a new world order in 2050, guided by a group of Founding Mothers led by none other than a grown-up Blue Ivy (played by This Is Us actress Susan Kelechi Watson), who tells the women,
Ladies, this is just like the 13th Amendment. Some people have their liberties and some people don't. America is a family and the whole family should be free. It's like I remember my father saying when I was a little girl: 'Nobody wins when the family feuds.'
The storyline then returns to 2018, and Blue Ivy herself appears in the video, walking with her father to sit in a church pew, while he then heads to a confession booth to rap the track to his wife, Beyoncé, who as usual looks like an impeccable goddess-queen.
Although Blue might not appear in the flesh in the most recent release, it seems pretty clear at this point that, in addition to being JAY-Z and Beyoncé's daughter, she's quickly becoming a star in her own right. But unlike many celeb parents, who either choose to shield their kids from the spotlight entirely, or who regularly offer up glimpses of their private family life to fans through social media, JAY-Z and Beyoncé actually seem to do neither of those things.
As interested as the public obviously is in their lives as parents (the internet collectively lost its entire mind, after all, when Beyoncé announced in February 2017 that she was expecting twins), we don't often see much of it. And aside from some cute snaps on Instagram here and there, we don't generally see a lot of Blue Ivy either. Yet the talented couple seems to be more than encouraging when it comes to giving their daughter the opportunity to explore her own creative side through their various musical projects, and, at this point, it seems like it would be absolutely no surprise to anyone if Blue Ivy ends up following in her famous parents' footsteps (or perhaps even completely outdoing them completely).
If nothing else though, JAY-Z's "Blue Ivy's Freestyle" video is a testament to how proud he and Beyoncé clearly are of their little girl, and it's a really touching way to publicly commemorate her birthday. Even if it does make the rest of us look like total slackers in the "thoughtful gift-giving" department.
Check out Romper's new video series, Romper's Doula Diaries:
Watch full episodes of Romper's Doula Diaries on Facebook Watch.