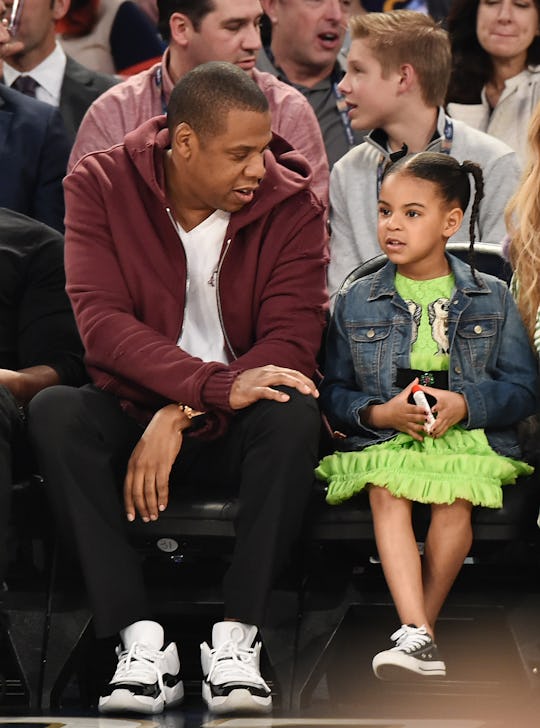 Theo Wargo/Getty Images Entertainment/Getty Images
Every Parent Needs To Read What JAY-Z Said Is The "Most Beautiful" Thing Blue Ivy Ever Told Him
When you're a parent, there are certain moments you just know you'll always remember. Your kid's first step, their first word, the first time they successfully use the potty. For JAY-Z? It seems like one special conversation the 48-year-old dad of three had with his oldest child, 6-year-old Blue Ivy, will remain with him forever. During a recent interview with David Letterman, JAY-Z revealed the "most beautiful" thing Blue Ivy ever said to him and it really was beautiful.
In an exclusive interview with My Next Guest Needs No Introduction with David Letterman, as Us Weekly reported, JAY-Z opened up about a lot of things, one of which was his oldest daughter. The entire world already knows that Blue Ivy is a sassy, firecracker of a child, who has no qualms hushing her superstar parents at the Grammy Awards. But, in this latest interview, her dad has proven that the little girl's emotional intelligence is quite impressive for her age and she has no problem expressing herself when something doesn't feel right to her.
As the rapper explained to Letterman, his daughter was up-front with him about the way he spoke to her when they were rushing off to school one morning. And for JAY-Z, that was just spectacular, that his young daughter stood up for herself and told him how his words made her feel in that moment.
So, what did Blue Ivy tell JAY-Z that morning? According to E! News, the proud dad was trying to get his daughter into the car to get to school on time, admittedly rushing her. "I told her to get in the car the other day because she was asking a thousand questions and we had to leave for school. We're driving and then I just hear a little voice..." JAY-Z told Letterman, according to E! News.
As the news outlet reported, he recounted his daughter telling him:
Dad, I didn't like when you told me to get in the car the way you told me. It hurt my feelings.
The rapper laughed when recalling the story, according to Us Weekly, but his ultimate response was pretty epic. "I was like, 'That's the most beautiful thing you've ever said to me,'" he told Letterman, according to E! News.
Of course, this isn't the first time that the father's love for his daughter had been almost palpable. Back in 2013, for instance, when little Blue Ivy was only a 1-and-a-half-year-old tot, JAY-Z told Vanity Fair how much he loved seeing his daughter listen to his music, and just how much it meant to him. He told the publication:
But this album was new, so we played it. And she loves all the songs. She plays a song and she goes, "More, Daddy, more … Daddy song." She's my biggest fan.
Yes, it's sweet, yes it's OK if your heart is melting a little bit right now. Seriously, this daddy-daughter relationship is totally enviable and JAY-Z's latest story just makes that even more obvious. The adoring father continued in the same interview with Vanity Fair, "If no one bought the Magna Carta [album], the fact that she loves it so much, it gives me the greatest joy. And that's not like a cliché. I'm really serious."
So really, the fact that JAY-Z considers Blue Ivy's honesty with him to be "the most beautiful thing" she ever told him is very touching. JAY-Z so obviously appreciates his daughter's voice and her independence, and it's clear that she'll be unstoppable just like her parents.
Check out Romper's new video series, Bearing The Motherload, where disagreeing parents from different sides of an issue sit down with a mediator and talk about how to support (and not judge) each other's parenting perspectives. New episodes air Mondays on Facebook.