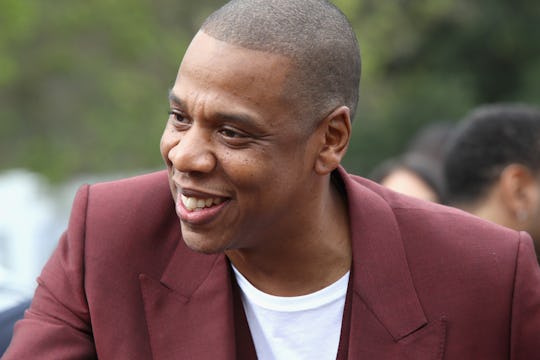 Ari Perilstein/Getty Images Entertainment/Getty Images
Obsess Over These Song List Clues Ahead Of '4:44's Release
It's a busy time for JAY-Z. Not only is the hip-hop mogul a father to the world's most famous newborn twins, he's about to drop his 13th studio album. Already, many fans are desperate to know what JAY-Z's 4:44 song list will be. While eager fans will have to wait a little bit longer for a complete track listing, JAY-Z has revealed one song title and at least a few other clues to obsess about before the album drops exclusively on Tidal on June 30.
On Father's Day, the album announcement trailer hit the internet, featuring a clip of "Adnis," one of the 4:44 songs. It seems that "Adnis" is about JAY-Z's father, Adnis Reeves, with whom he had a strained and complicated relationship. Reeves reportedly abandoned the family when JAY-Z was 11, and the two didn't communicate until JAY-Z reached out years later, shortly before his father's death.
The released lyrics for "Adnis," which underscored a moody clip of Moonlight's Mahershala Ali (yes!!) playing a boxer, are,
Letter to my dad / that I never wrote / Speeches I prepared that I never spoke / Words on a paper that I never read / Proses never penned they stayed in my head.
Naturally, fans are clamoring for more. But it seems that JAY-Z's going the secretive route that his wife, Beyoncé, has been following recently. That clip of "Adnis" may be all that listeners will get before June 30. Still, that doesn't mean we can't speculate, based on some interesting information.
Billboard confirmed that regular JAY-Z collaborator and legendary producer No I.D. produced the entire 4:44 album, so fans can expect some similarities to past collaborations like "Run This Town," "D.O.A. (Death of Auto-tune)," and "Holy Grail" in the new music.
And many are speculating that 4:44 will contain some sort of response to Beyoncé's Lemonade, which fueled rumors of JAY-Z's infidelity. However, as Entertainment Weekly points out, "with two new additions to their family... any substantial pushback seems unlikely." While JAY-Z will likely make some reference to Lemonade on 4:44, he'll also probably devote most of the album to other topics. Perhaps we'll even get an audio snippet from the twins. After all, JAY-Z and Beyoncé's daughter, Blue Ivy, made her music debut when she was only a few days old, when JAY-Z featured her newborn cries on his song "Glory."
We won't have to wait much longer for a full track list. In the meantime, get that "Adnis" clip going on repeat.