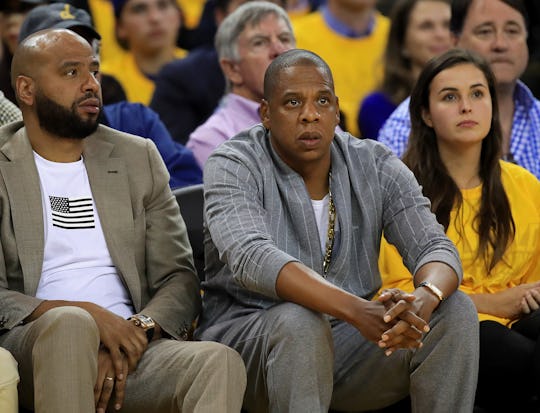 Ezra Shaw/Getty Images Sport/Getty Images
Who Is Adnis? JAY-Z's '4:44' Will Get Personal
Rapper JAY-Z has just become a daddy three times over with the reported birth of twins on June 12, but he has plenty more on his plate with the forthcoming release of his 13th solo album, 4:44. Fans got an all-too-brief sneak peak of the track "Adnis," with the full album set to drop on June 30. JAY-Z has been especially cryptic about 4:44, and plenty of fans have been wondering just who is Adnis, anyway? While everything is pure speculation until the album actually drops, "Adnis" is most assuredly a reference to JAY-Z's father, Adnis Reeves. Some fans and music critics have also theorized that "Adnis" could also refer to Adonis sans the "o," in a nod to the Greek god of beauty and desire.
The connection to JAY-Z's father is the strongest theory at this point, given that the brief set of lyrics from "Adnis" released in a 4:44 teaser trailer begin with, "Letter to my dad that I never wrote." JAY-Z spits his lyrics over dramatic, super slow-mo black and white footage of Moonlight actor Marshala Ali wearily tearing into a punching bag held by actor Danny Glover. The whole mood of the trailer for 4:44 is epic, heavy, and brooding. Given JAY-Z's fraught relationship with his father, this isn't entirely surprising.
When JAY-Z was just 5 years old, his family moved to the Marcy projects in the Bedford-Stuyvesant neighborhood of Brooklyn. When he was 11, his father Adnis reportedly abandoned his family; it left a deep emotional wound for JAY-Z, who spoke candidly about his relationship with his father in an interview with Oprah in 2009. He talked about how angry he was at the time, saying:
Because when you're growing up, your dad is your superhero. Once you've let yourself fall that in love with someone, once you put him on such a high pedestal and he lets you down, you never want to experience that pain again.
So I remember just being really quiet and really cold. Never wanting to let myself get close to someone like that again. I carried that feeling throughout my life, until my father and I met up before he died.
Damn.
JAY-Z was able to mend his relationship with his father at the urging of his mother; his father died in 2003 just three months after JAY-Z got in touch with him. JAY-Z's father has been mentioned in his lyrics before, the earliest mention in his track "December 4" from his 2003 album, The Black Album: "I was conceived by Gloria Carter and Adnis Reeves / who made love under a sycamore tree / which makes me a more sicker MC."
Everything about the release of 4:44 feels like JAY-Z is getting ready to make a serious album statement of his own, not unlike his wife Beyoncé's critically acclaimed visual album, Lemonade. 4:44 shares another very important trait in common with Lemonade, too: JAY-Z's latest album will drop exclusively on TIDAL, his online streaming music service, and also for Sprint customers. (For those like me wondering why Sprint got exclusivity rights, Sprint bought a 33 percent stake in TIDAL in January.) For those diehard JAY-Z fans, Sprint is offering a free six-month trial to TIDAL for new and existing customers so they can fire up their AirPods the second the album is released. But let's be honest: Diehard fans are probably already using TIDAL, since JAY-Z's entire catalog lives on TIDAL and nowhere else.
As for the mystery of "Adnis," everyone will just have to wait until June 30 to get the final word on what it — and the rest of 4:44 — is all about.