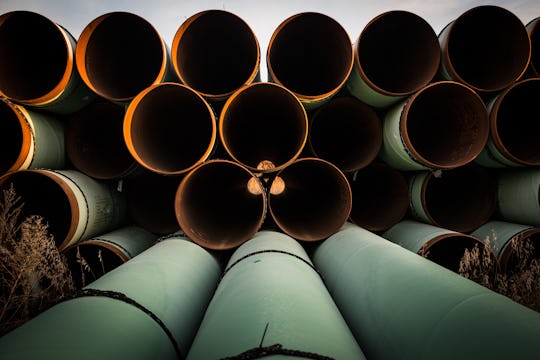 Andrew Burton/Getty Images News/Getty Images
Jeb Bush Drops Out Of GOP Race — REPORT
President Trump wasted no time getting down to business this first week. On Tuesday morning, he signed an executive order that would push forward construction on the Dakota Access Pipeline and revive the Keystone XL pipeline, which was rejected by President Obama in 2015. Environmental activists are not happy about the move, since they believe the Keystone XL pipeline can contaminate people's water, which would not just hurt or kill human beings, but essentially cause a public health and environmental crisis that would cost way more money to solve than any money the pipeline could bring in for the oil industry, which is the main reason Trump signed the order. It's high risk, very low reward.
The TransCanada Corp has 60 days to reapply for a permit to continue construction of the pipeline, which will then be reviewed by the State Department (which will be overseen by Rex Tillerson, a former Exxon Mobile CEO, who will likely be sympathetic to the Canadian oil company).
According to science, the pipeline can contaminate land and water. The pipeline is supposed to transport tar sands oil from Alberta, Canada to Texas, leading all the way to the Gulf of Mexico. Here's the thing: it's not transporting "light, sweet" crude oil that floats to the top and can be mopped up with booms in case of a spill (spoiler alter: spills happen often but more on that later).
Instead, the pipeline will carry Bitumen, which sinks. When it spills, the contaminated water would have to be pumped out, leading to even more water flowing into the contaminated area, according to the Natural Resources Defense Council.