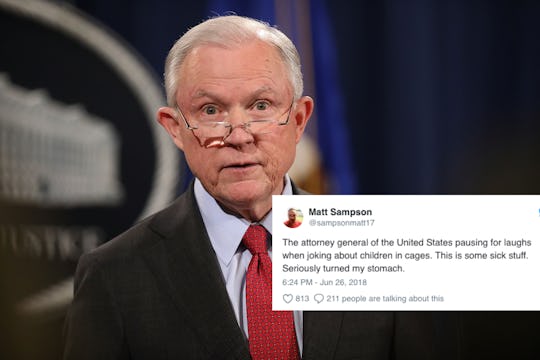 Chip Somodevilla/Getty Images News/Getty Images
Yup, Jeff Sessions Really Joked About Separating Families, & People Are Appalled
Many Americans are justifiably upset with the Trump administration's policy of separating children from their families. Lawmakers are touring detention centers filled with wailing children, people are organizing marches, and a federal judge even ordered that families be reunited within a month. Amidst all of this outrage at the inhumanity of taking kids away from their parents, Attorney General Jeff Sessions joked about separating families at an event in Los Angeles on Tuesday night. And he was met with some cheers, as per The New York Daily News.
While speaking to a conservative-leaning Criminal Justice Legal Foundation, according to The Huffington Post, Sessions tried to make a joke about critics of the administration's "zero-tolerance" policy, which he issued back in April. He said, "We hear views on television today that are on the lunatic fringe, frankly. And what is perhaps more galling is the hypocrisy. These same people live in gated communities, many of them, and are featured at events where you have to have an ID to even come in and hear them speak."
Sessions added, "They like a little security around themselves. And if you try to scale their fence, believe me, they'll be only too happy to have you arrested and separated from your children." The joke garnered a few laughs in the crowd, as you can hear in the video below.
Here Are His Remarks
On Twitter, People Couldn't Believe Their Ears
President Donald Trump campaigned on closing American borders and opposing paths to citizenship for immigrants who came to the U.S., which means that immigrant families and their advocates have been suffering since the day he took office, as per The New York Times. But it wasn't until April when Sessions himself, as the head of the Department of Justice, issued a "zero-tolerance" policy, essentially criminalizing all types of border crossing.
The policy, which Sessions has fervently defended in the past months, meant that even people exercising their protected right to seek asylum from persecution would be considered felons, giving the government permission to detain and deport them, as reported by Vox. It also gave the the government the right to separate them from their children, which led to a surge of "unaccompanied minors" in the custody the Department of Human Health and Services, as reported by CBS News. (To be clear, many were not "unaccompanied" until they were separated from their parents or guardians.)
Many parents reported having no information regarding their children's whereabouts and some kids were even transported to foster care in other states. It became very clear over the past months that the government was unable to track and house all of the separated families and didn't have a plan in place to reunite them, as reported by The New Yorker. Sessions has championed all of these policy moves, according to CNN and he has made it very clear with his joke that he just doesn't "get it."
It wasn't just regular ol' Twitter users who felt that way, either. Chelsea Clinton heard the joke, too, and she was shocked that Sessions would suggest his critics were the radicalized and rude ones. She tweeted, "You want to know what indecency and incivility sound like? People laughing and applauding at the 'joke' about forcibly separating parents from their children."
Her tweet also referenced the ongoing conversation on social media about protestors heckling Department of Homeland Security Secretary Kirstjen Nielsen after she stood by the zero-tolerance policy and a restaurant owner turning Press Secretary Sarah Huckabee Sanders away because of her involvement with the administration, according to The Hill.
While it's true that many people are firmly planted on either side of contentious issues these day, there are some things you just don't joke about or make light of. Separating children from their parents with no protocol on how to reunite them is one of those things. It'll always be "too soon" to chuckle about family separation.