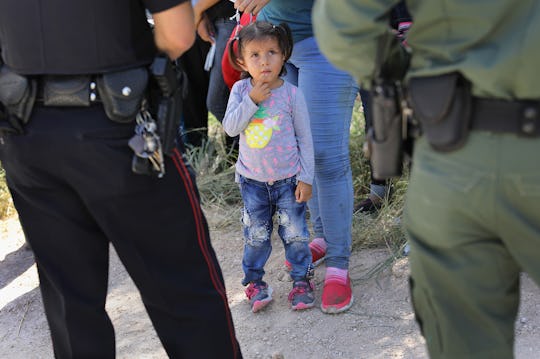 John Moore/Getty Images News/Getty Images
Trump Ended Family Separation At The Border, But How Will They Reunite Parents & Kids?
On Wednesday afternoon, President Donald Trump signed an executive order to put an end to his "zero tolerance" immigration policy, according to CNN, which has reportedly resulted thousands of children being separated from their parents at the U.S.-Mexico border since it was enacted in April. The new order means that border agents will no longer be able to detain undocumented migrants and their children in separate centers. But will Trump's new executive order reunite immigrant families who have already been separated at the border? From what's known about the new order and policy right now, it actually doesn't do very much for these families at all.
Back in April, Attorney General Jeff Sessions issued a "zero tolerance" directive that ordered border agents to prosecute anyone who crossed the border illegally, including families seeking asylum from places in Central America and Mexico where gang violence is rampant, according to CNBC. Presenting yourself at the border as an asylum seeker is not illegal, according to the ACLU, but doing so with the "zero tolerance" policy in place without any documentation has resulted in families being detained in separate facilities, as reported by to NPR.
The Department of Health and Human Services, which takes over custody of the children when their parents are detained by the Department of Homeland Security and the Department of Justice, reported in May that it had 10,773 migrant children in its custody, up from 8,886 on April 29, which is likely due to Sessions' "zero tolerance" policy memo, according to The Washington Post. They did not specify how many of those children were separated from their families at the time, but according to a report from The Daily Beast this week, there are at least 2,000 children who have been separated from their parents at the border. So what will happen to them with this new order place?
Romper's request for comment from the Department of Health and Human Services and the Department of Homeland Security was not immediately returned.
Here's the thing: No one really knows exactly what's going to happen to those children already separated from their parents. Since the policy of separating children from their parents at the border border was a new directive enacted by the Trump administration, according to NBC News, HHS doesn't have any protocol for reuniting families, as reported by the Associated Press. Steven Wagner, a spokesperson for HHS, told the AP, "This policy is relatively new. We're still working through the experience of reunifying kids with their parents after adjudication."
Parents are being held in facilities near the border in Texas, while some children were sent to foster care homes as far away as New York, Illinois, and Michigan, according to The Daily Beast. While the parents are detained, their lawyers and advocates have been tasked with trying to locate the parents, but it's not simple.
It also puts the onus on the parent, which is quite the burden if you've been locked up or have just been released from a DHS facility. There are hotlines and email addresses parents and advocates can use to find information, according to the AP, but they haven't proven to be entirely useful in many instances. For example, The Houston Chronicle reported that some parents have been given the wrong number and were directed to other agencies, like the Office of Refugee Resettlement. Others have faced language barriers, according to Quartz, which makes it hard not just to give information, but to find it.
Emily Kephart, a program coordinator at an immigrant rights group called Kids in Need of Defense, told The New Yorker that she was trying to find a 6-year-old Guatemalan girl separated from her father in May. According to The New Yorker, she said:
We hit a dead end. The person I spoke with just made a note in the file of the girl they thought it might be. But we didn't get confirmation that we were talking about the same child. They were looking at the record of someone whose first name was spelled differently, and whose date of birth was a month off.
Remember, some of these children are still in diapers and can't talk yet to begin with, let alone give their name or birthday in fluent English. Other kids, and their parents, might be in shock from the entire experience and unable to give correct information about where they come from or how their name is spelled in a different language. All of this can make record-keeping difficult. Because again, because this policy was relatively new, there are no protocol for keeping these records or reunifying families.
John Sandweg, former acting director of Immigrations and Customs Enforcement under President Barack Obama, told NBC News that the lack of guidelines could lead to "permanent separation." He added, "You could be creating thousands of immigrant orphans in the U.S. that one day could become eligible for citizenship when they are adopted." Sandweg said in another interview with Global News, "I think we're going to see hundreds of cases where the children are permanently separated from their parents, becoming wards of the United States."
Trump's executive order simply reverses the order that his attorney general issued earlier this year. This is very far from being over in so many ways. Hopefully the next policy on the matter and set of protocol will include guidelines for keeping track of children and reunifying them with their families. Because kids fleeing dangerous regions with their parents shouldn't be an afterthought.