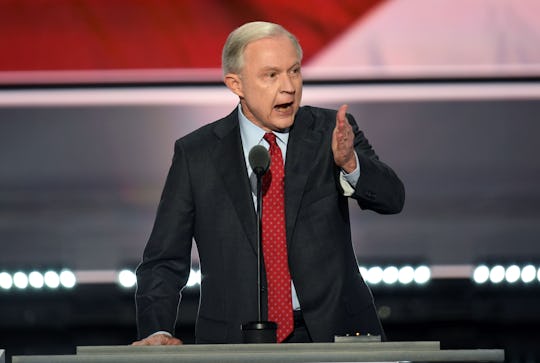 JIM WATSON/AFP/Getty Images
Jeff Sessions' Views On Immigration Hint At What Sort Of Attorney General He Might Be
Another day, another controversial pick for President-elect Donald Trump's future Cabinet. According to The Washington Post, Jeff Sessions — an early Trump backer and Alabama's junior senator — has been tapped for attorney general, a position that serves as chief law enforcement officer of the federal government. In a statement, Sessions said there was "no greater honor" than to lead the Justice Department, adding, "I look forward to fulfilling my duties with an unwavering dedication to fairness and impartiality." Though the GOP-controlled Senate is likely to approve Trump's pick without major issues, Sessions' views on immigration could prompt Democrats to raise questions at the upcoming confirmation hearings.
This won't be the first time Sessions will face a Senate confirmation hearing, though. In 1986, members of the Judiciary Committee blocked his nomination to become a federal judge over allegations he made racially charged comments indicating an opposition to civil rights. According to CQ Almanac, the decision by Howell Heflin — then a senator from the same state Sessions calls home — to vote against his own constituent was a crucial factor in Sessions' rejection. Before the roll call, Heflin told the committee:
The question is, 'Will Jeff Sessions be a fair and impartial judge?' The answer is, 'I don't know.' ... I regret that I cannot vote for confirmation, but my duty to uphold the Constitution and my duty to the justice system is greater than any duty to any individual.
Former colleagues told the committee Sessions joked about the Ku Klux Klan, saying he thought they were "okay, until he learned that they smoked marijuana." Thomas Figures — a black assistant U.S. attorney working under Sessions — testified his boss had been critical of the National Association for the Advancement of Colored People (NAACP) and the American Civil Liberties Union (ACLU), according to CNN:
On the day in question, Mr. Sessions came into my office just as I was reading a newspaper account of some the recent action of the NAACP. I casually mentioned that development to Mr. Sessions. Mr. Sessions in response stated that he believed the NAACP, the Southern Christian Leadership Conference, Operation PUSH and the National Conference of Churches were all un-American organizations teaching anti-American values. This statement clearly was not intended as a joke.
According to The Nation, Sessions — who prosecuted black activists for voter fraud during his time as U.S. Attorney for Alabama — admitted to calling the Voting Rights Act a "piece of intrusive legislation," though he'll now be responsible for enforcing the civil rights laws he once resisted. Hillary Shelton, director of the NAACP's Washington office, told The New Republic that Sessions "consistently opposed the bread-and-butter civil rights agenda." Sessions' office has not responded to Romper's request for comment regarding racism allegations.
First elected to the Senate in 1996, the ultra-conservative Sessions is now known as a hard-liner on immigration and crime. In 2014, National Review called Sessions "amnesty's worst enemy" for his longstanding opposition to any immigration legislation that includes a path to citizenship for undocumented immigrants already in the country, including 2007's comprehensive reform bill. He's also fought against legal immigration efforts, like guest worker and visa programs for foreign individuals working in science and math. In a 2015 op-ed for The Washington Post, Sessions wrote:
Legal immigration is the primary source of low-wage immigration into the United States. In other words, as a matter of federal policy — which can be adjusted at any time — millions of low-wage foreign workers are legally made available to substitute for higher-paid Americans. ... What we need now is immigration moderation: slowing the pace of new arrivals so that wages can rise, welfare rolls can shrink and the forces of assimilation can knit us all more closely together.
In August, Sessions defended the idea of instituting ideological tests and "extreme vetting" for anyone wishing to immigrate to the United States, a proposal first issued by Trump as a means of defeating radical religious terrorism.
Once the new Senate is seated Jan. 3, it's standard practice to hold confirmation hearings for top Cabinet picks like Sessions prior to the inauguration. Doing so helps ease the official handover of the federal government come Jan. 20.