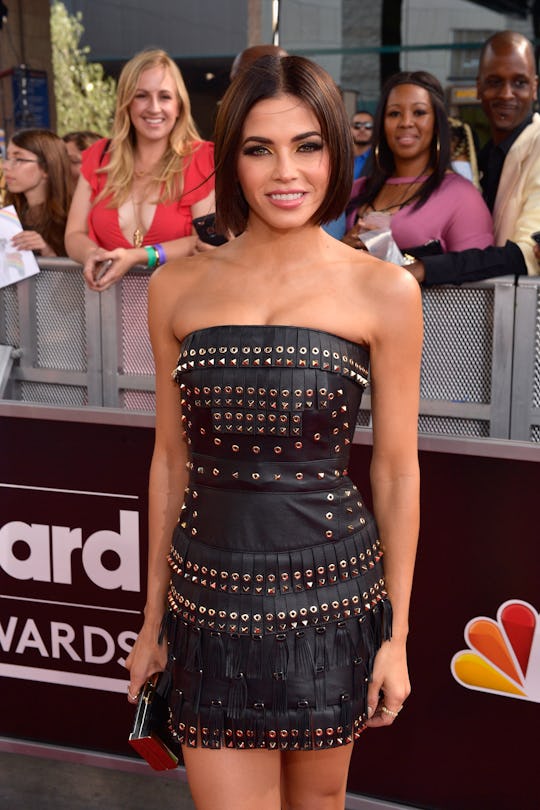 Matt Winkelmeyer/Getty Images Entertainment/Getty Images
Jenna Dewan Gets Honest About Raising Her Daughter Post-Breakup, & Co-Parents Will Relate
When Jenna Dewan and Channing Tatum announced in April that they were splitting after nearly nine years of marriage, fans who had long looked up to the couple as proof that true love still exists were left majorly heartbroken. Since then, it seems that some have been holding out hope that the two may reconcile, and it's understandable: Dewan and Tatum always seemed to be so in love, and along with their 4-year-old daughter, Everly, they looked like a picture-perfect family. But on Friday, Jenna Dewan talked about raising Everly post-split with Channing Tatum, and it was pretty telling about where her priorities really lie in the wake of their separation.
On Friday, Dewan attended Las Vegas Magazine's 15th anniversary party at the Red Rock Casino Resort and Spa, and while at the event, she told Us Weekly that her daughter is "the love of her life." On the surface that might just seem like something moms say about their kids, but it's also an important reminder about the reality of her breakup with Tatum — and one that easily gets lost in all the speculation about whether or not the couple still loves each other. The truth, after all, is that while we may be focused on their seemingly-epic celebrity love story, Dewan and Tatum are parents. And, as any parent knows, having a child forever changes the way you view the world — especially when it comes to navigating a divorce.
Dewan and Tatum announced their separation in a joint statement on their social media accounts on April 2, according to The Independent, and wrote that they "have lovingly chosen to separate as a couple." They also noted that while "absolutely nothing has changed about how much [they] love one another," they were "on different paths for now." From the looks of it, that wasn't just lip service either: on May 13, Tatum took to Instagram to wish Dewan a happy Mother's Day — and even called her "baby" in the clip.
Yet as much as that may have given fans hope, Tatum's message likely has more to do with wanting the best for his daughter than wanting to get back together with his Dewan. Deciding to separate when you have a child together is never easy, after all, and it definitely doesn't seem like something the couple took lightly. And while it's certainly not always possible for all couples, being able to remain amicable co-parents is one of the best things Dewan and Tatum could possibly do for their daughter.
On Friday, Dewan told People that while there had been "a lot of change" in her life this year, her strategy was ultimately to "go with it and ... make the best with what you can." And part of that, for sure, was focusing on her little girl: she told reporters that "Everly is great," and that her daughter was "[her] top priority," according to Us Weekly. In fact, the proud mom even gushed about her 4-year-old's upcoming dance recital. Dewan (a professional dancer herself) told People,
She's always into something. She's very distractible, but she does have her first dance recital coming up and I'm probably a little too excited, like I'm trying to contain my own excitement. She's just excited about the costume.
As for being in Vegas? Dewan said the experience was much different now that she's a mom. Though she has plenty of exciting memories of the city, Dewan told the magazine, "now, I come to Vegas to find out what shows to show my daughter, rather than staying up all night partying."
Even though it would be pretty wonderful if Dewan and Tatum could get back together and be the gorgeous celebrity couple we all knew and loved, the reality is that they almost certainly knew that reconciliation wasn't in their future before they ever announced their split publicly. And it's something that many separated parents can likely relate to: having a child influences your decisions in a much different way than you can really ever anticipate, and the stakes gets so much higher. So although the world may be focused Dewan and Tatum's relationship with one other, it seems like, for them, it's really just about doing whatever is best for the family they built together.