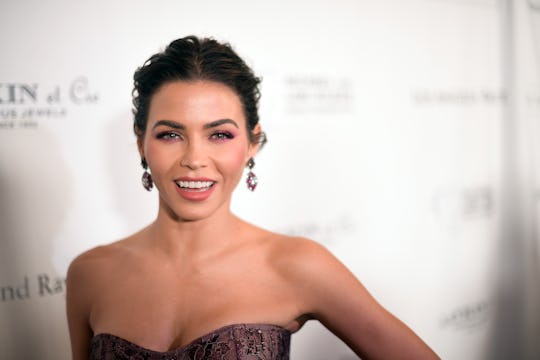 Matt Winkelmeyer/Getty Images Entertainment/Getty Images
Jenna Dewan's First Post After Break-Up Is All About Gratitude
As someone who has been through a divorce with kids, I know a thing or two about a thing or two. I know that, no matter your social status, it can feel cripplingly lonely. That those first few weeks post-decision can feel post-apocalyptic in many ways. And that having people who offer you words of kindness and support make all the difference in the world. Jenna Dewan knows a little something about this too, I think. Dewan's first post after her break-up with Channing Tatum is all about gratitude, and I truly think it comes from the heart.
The Step Up actress/dancer and mom to 5-year-old daughter Everly has been keeping something of a low profile in the wake of her split announcement from Channing Tatum on April 2. She has reportedly taken a little break in Santa Barbara with close friends, and she's been seen in the requisite work out clothing heading to the gym (because I guess that's where the paparazzi manage to catch all the stars). But otherwise, she's been pretty silent. Until Friday, when she posted a beautiful picture of herself in a white skirt and crop top on the beach on Instagram with a sweet message of gratitude for all the supportive messages she has received:
Thank you guys for all your love. Love you right back
It was a lovely way for Dewan to thank all of the fans who sent her love and support after she and Tatum, who she married in 2009, issued the statement that they had "lovingly chosen to separate as a couple" on Instagram:
We have lovingly chosen to separate as a couple. We fell deeply in love so many years ago and have had a magical journey together. Absolutely nothing has changed about how much we love each other, but love is a beautiful adventure that is taking us on different paths for now. There are no secrets nor salacious events at the root of our decision—just two best friends realizing it's time to take some space and help each other live the most joyous, fulfilled lives as possible. We are still a family and will always be loving, dedicated parents to Everly. We won't be commenting beyond this, and we thank you in advance for respecting our family's privacy.
Dewan's fans took to her Instagram page with even more messages of support.
Be strong! Always look forward not backward. You are a beautiful and talented woman
Love your work. Life has ups and downs, I hope you have high ups and shallow downs
One of Dewan's loyal fans even gave her this brilliant bit of advice, which I think each of us could apply to our lives:
Keep your chin up, and block anyone that's an ahole!!!
Both Dewan and Tatum have insisted that their split was amicable, with Dewan's rep shutting down rumors in a statement to People that the split was based on Tatum's behavior:
Happy to clarify that absolutely none of these rumors are true. The reason our statement was so positive [was] because that's the reality of the situation.
For fans who might have been holding on to their doubts that the couple remain close? Tatum liked his ex-partner's gratitude post, which is always a clear sign of residual affection in my books.
Of course there are still plenty of people who are heartbroken over the couple's split, on account of they were clearly adorable together. But it seems like we're all just going to have to get accustomed to the new normal of this celebrity couple moving on with their lives.
It's ok. Just remember we still have Blake Lively and Ryan Reynolds to pin all of our unrealistic hopes upon.