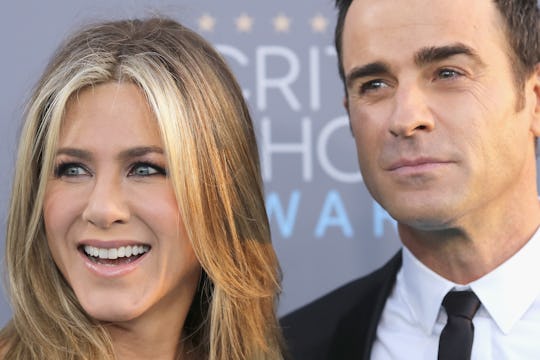 Mark Davis/Getty Images Entertainment/Getty Images
Jennifer Aniston & Justin Theroux's Quotes About Each Other Make Their Split Even More Surprising
There are some people you sort of expect to break up, like this one couple who lives down the road from me who loves to fight in their driveway. Then there are other couples, ones who seem to bathe neck-deep in the scented bubbles of true love, basking in each other's admiration all the time. Those are the breakups that cut deep. And this latest Hollywood breakup? I'm not going to lie to you... they seemed rock solid. And Jennifer Aniston and Justin Theroux's quotes about each other will haunt you, because they were obviously just so nice to each other, you know? How could that end? What does this mean for the rest of us?
Aniston and Theroux, who were married in a private ceremony in August 2015 after dating for four years, announced they had split at the end of 2017 via a joint statement through Aniston's longtime publicist, via the Associate Press. The statement released by Stephen Huvane read in part: "In an effort to reduce any further speculation, we have decided to announce our separation. This decision was mutual and lovingly made at the end of last year. We are two best friends who have decided to part ways as a couple, but look forward to continuing our cherished friendship." Romper's requests for comment from both Aniston and Theroux's reps were not immediately returned.
The couple went on to note in their statement:
Normally we would do this privately, but given that the gossip industry cannot resist an opportunity to speculate and invent, we wanted to convey the truth directly. Whatever else is printed about us that is not directly from us, is someone else's fictional narrative. Above all, we are determined to maintain the deep respect and love that we have for one another.
It was a thoughtful, kind way to end what was obviously a very happy union for them both. As documented in the things they said publicly about each other whenever either of them spoke to the media.
The Secret To A Happy Marriage
The Leftovers actor had this to say to People about his marriage to Aniston in 2016:
We appreciate each other's sense of humor, we respect one another and we get along. I know it sounds simple but it's true.
Their "Sacred" Time Together
Jennifer Aniston told Goop in 2015 that there were certain things she would never give up:
Spending time with my husband, my dogs, and long-time girlfriends. Those times are sacred to me and I would never give them up.
She's Worth It
When asked about the frustration of constantly being in the limelight because of Aniston's fame, Theroux told Brides magazine in 2014:
It doesn't feel like a hardship, it doesn't feel difficult. It can be an annoyance, but it's not the end of the world. You have to center on what its core thing is, which is that you met someone you fell in love with.
Laugh Out Loud
Aniston admitted to Harper's Bazaar in a 2016 interview that one of the best things about Theroux is that he knows how to make her laugh.
I like making jokes. I'm lucky because Justin is the funniest person I've met, and we make each other laugh. Laughter is one of the great keys to staying youthful.
The newly-separated couple have often opened up about how much they care about each other. Theroux told Extra in 2012 that he "always go to bed thinking I'm the luckiest guy in the world," and Aniston gushed about Theroux's cover on Details magazine:
He's just so beautiful and handsome to me, and I love that his eyeballs are so beautifully captured because those eyes just knock me out every day.
All of these quotes provide salient proof that Aniston and Theroux enjoyed a beautiful partnership. Whatever happens in the future, it won't change the fact that they were happy, and good, and kind to each other.
Check out Romper's new video series, Bearing The Motherload, where disagreeing parents from different sides of an issue sit down with a mediator and talk about how to support (and not judge) each other's parenting perspectives. New episodes air Mondays on Facebook.