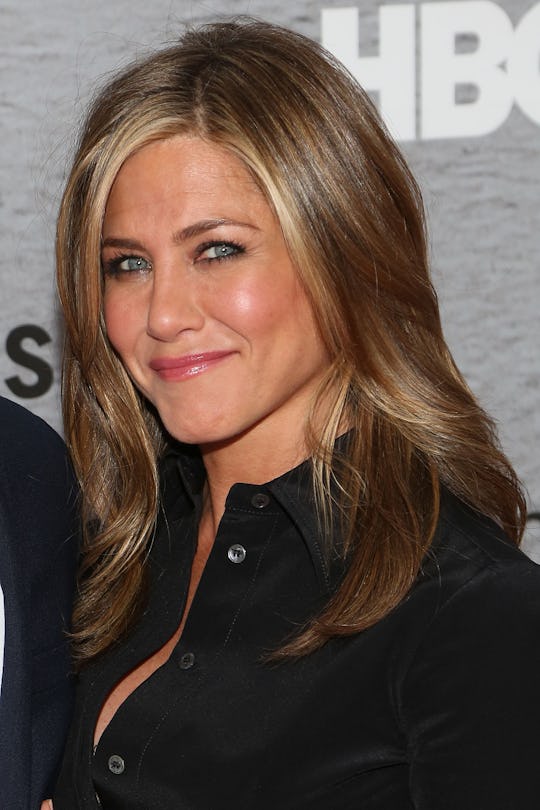 Taylor Hill/FilmMagic/Getty Images
Jennifer Aniston's Favorite 'Friends' Moment Is The One Where Everyone Looks Hilarious
NBC was "Must See TV" again this evening. The cast of Friends, as well as dozens of other sitcom stars, got together for a tribute to director James Burrows' 1000th episode. Which was very impressive and we were super excited and all... but now for a little more about the cast of Friends. Any secrets divulged from their perch on the couch? Any new information? Well I can tell you this. We now know which Friends moment was Jennifer Aniston's favorite. And not surprisingly, it's also mine! (I knew it, we were meant to be BFFs.)
Aniston's favorite, "The One With The Prom Video", was actually a pivotal moment in Ross-loves-Rachel history. Let me take you back, if you will.
It is the 14th episode of Season Two. We've all watched Ross try to get Rachel to notice him without much success for months. There's that first moment in the show's pilot when Ross is sitting at Central Perk, whining about wanting to get married in that adorable, don't-you-just-want-to-make-it-better-for-him way, and in walks Rachel Green in her wedding gown. She moves in with her old friend Monica, she gets better hair (The Rachel, no less) and starts wearing overalls all the time, tricking us hippie girls into thinking we could pull them off too. Ross' love is unwavering. Until he meets Julie, a fellow archaeologist, just when Rachel realizes she loves him.
Of course, it's not long until Rachel breaks and confesses to Ross that she's in love with him too. They have this kiss:
Right? But then bad things happen, they both hurt each other. Ross fills out an ill-advised list that I really don't think I can talk about (okay, he calls her "just a waitress". Not cool, Ross. Not. Cool.) All seems lost.And then they find a video.
It was prom night for pre-thin Monica and pre-nose job Rachel. They are in their awful '80s dresses and looking hilarious. Ross has what looks to be a perm AND a moustache and it's wonderful.
Good things happen and, to quote Miss Phoebe Buffay, Rachel and Ross, who've been watching the home video unfold together, eventually decide that their argument is silly and make out — or "find their lobster" as Phoebe puts it.
It's such a great episode, iconic really. Evidence that TV can be sweet and silly and light and poignant all at the same time. I love that Aniston (who, if anyone cares, was wearing a great outfit tonight, which should surprise exactly no one) chose this episode as her favorite. It tells me that she still gets how clever and kind Friends could really be when all of the magical elements were aligned.
Apparently, Aniston wasn't alone in her opinion:
So thank you, Jennifer Aniston. It might have been a short reunion, and I might not have gotten any of the behind-the-scenes secrets that I was dying to hear (although I did find out what goes in a Jennifer salad, the lunch that she, Courtney Cox, and Lisa Kudrow apparently shared every day for ten years, and is probably what has kept them looking crazy young). But at least the special reconnected me and everyone else to an episode of Friends I had nearly forgotten. (Oh — and congrats on getting married, by the way, Miss Aniston. I hope you found your lobster.)