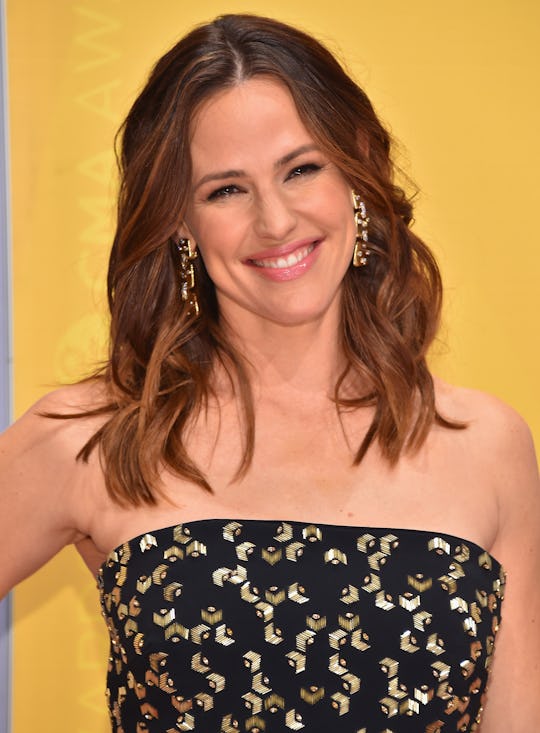 Michael Loccisano/Getty Images Entertainment/Getty Images
Jennifer Garner Emptied Out Her Bag & Moms, You Won't Be Surprised By What She Found — VIDEO
First let me say that I would never, ever be brave enough to empty the contents of my bag in front of a bunch of strangers. Like, ever. I'm really only confident about the top layer of items, the pens and receipts and half-used lip balms that I can actually see. Who knows what lies beneath? Not I, and I have no intention of finding out either. Because not all of us can be as brave as Jennifer Garner, who emptied out her bag on Monday for all of Instagram to see, and moms? You aren't exactly going to be shocked by what she found. But you will be oddly comforted, I believe.
Garner is the mother of three children: 12-year-old Violet, 9-year-old Seraphina, and 6-year-old son Samuel, with ex-husband Ben Affleck. Garner and Affleck have been separated since 2015, and Garner has become something of an inspiration to moms in the years since. Because she's just so... Jennifer Garner, you know? Quite real in a self-deprecating, non-pretentious way that might have some people slotting her for possible best friend material. And her Monday night episode of "What's In My Bag" was no different. The Love, Simon actress apparently #ihadsomewine and decided to empty out the contents of her favorite backpack. Because why not?
So what sort of things do you think a dynamic, talented film star might carry in her backpack? A tiara, several payers of designer sunglasses, scripts from major Hollywood studios she might be considering, the emergency contact number for her personal trainer?
Nope. Think more like:
an almost never-ending stream of heart stickers of all sorts. Because you just never know when telling someone you love them might need a little extra oomph in the shape of a heart sticker.
a day planner made of paper for writing things down, not a device.
another book, something I myself tend to carry around as a sort of cruel game I play with myself. As if I'm ever going to have time to read it. I wonder if Garner plays this same game?
A "honey thing," which I guess is probably used for stirring honey?
A geode (which Garner holds up and asks, "Why, though?")
A package for pens, then more and more pens scattered throughout her bag to feed her apparent love for pens.
A $1 bill and some tea, obviously
A bright emergency light. Maybe to help her find the bottom of her bag?
The random contents of her bag came as no surprise to some of her Instagram followers, who wrote:
Anyone with little kids has stickers in their bags #momsolidarity
Oh gosh ... this would be me too! 😳😂😅
This is brilliant. Representing mothers everywhere!
Garner has become nearly as well-loved for her down-to-earth approach to parenting (and life in general) as she has for her acting. Whether she's standing outside a grocery store selling Girl Scout cookies for her kids or walking her pet chicken Regina George (R.I.P.), she always seems to be exactly herself. And if you've never treated yourself to watching her "Pretend Cooking Shows" on either Facebook or Instagram, here she recently taught fans how to make Huckleberry English muffins... do yourself a favor and catch up.
I find immense satisfaction in knowing that Jennifer Garner is probably hiking on some trail right now with a backpack full of pens, heart stickers, and a geode. It's exactly what one might expect from a regular mom like myself, but not necessarily from a famous, awesome mom like Garner. But perhaps that's what makes her so awesome... I get the feeling that she aspires to be a regular mom making it through the day much like the rest of us.
And her bag is proof.
Check out Romper's new video series, Bearing The Motherload, where disagreeing parents from different sides of an issue sit down with a mediator and talk about how to support (and not judge) each other's parenting perspectives. New episodes air Mondays on Facebook.