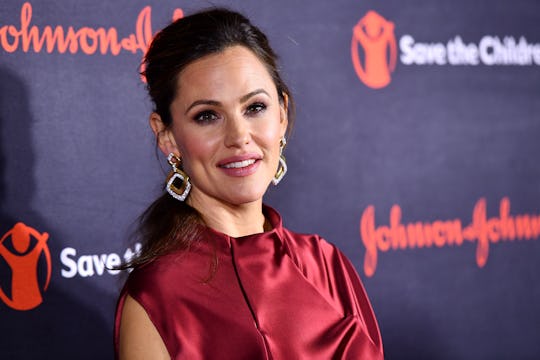 Noam Galai/Getty Images Entertainment/Getty Images
Jennifer Garner & More Celebs Respond To Ariana Grande's "Thank U, Next"
In the event that you've been living under a rock for the past 36 hours or so, Ariana Grande released the highly-anticipated music video to her new single, "Thank U, Next" on Friday afternoon — and it promptly broke the internet. Fans took to Twitter in droves with excitement over the epic creation. From actually naming her exes, to featuring some pretty kick-butt celebrities, to reenacting scenes from four iconic movies, the video is a work of art. You simply must see it for yourself. Already, Jennifer Garner and more celebs have responded to Ariana Grande's "Thank U, Next" video. And their reactions are golden.
For starters, the song itself — which was released in early November — shattered Spotify's single-day streaming record for a female artist, Forbes reported. So you can bet fans could hardly contain their excitement for the accompanying music video. (Spoiler alert: It certainly did not disappoint). In the video, Grande finds herself in the lead roles from four iconic movies from her childhood: Mean Girls, 13 Going on 30, Bring It On, and Legally Blonde. If you've never seen it — or simply wish to bask in the video's awesomeness all over again — I invite you to click "play" below.
As E! Online reported, Jennifer Garner didn't waste any time giving a shoutout to Grande for her amazing nod to 13 Going On 30. Alongside a clip of Grande carrying the dollhouse, Garner wrote, "Every now and then something comes along and just brightens your day," the actress wrote. "@arianagrande you're adorable. Thank you, pretty girl."
It appears that Grande promptly lost her mind. "NooooooooOoOOoOo I'm crying," she responded. "I watched this movie every night before bed growing up (and I still do sometimes, especially when I'm sad)," she commented. "[heart emoji] I adore you! Thank you for all the inspiration and joy you've brought to my life I'm screaming bye." She added, "And by sometimes I literally mean every night still."
Fellow 13 Going on 30 co-star, Mark Ruffalo, also acknowledged the tribute. The actor tweeted, "Having some Razzles (it's a candy AND a gum) in your honor, @ArianaGrande! #thankunext."
Star of Legally Blonde, Reese Witherspoon, also acknowledged Grande's portrayal of Elle Woods in "Thank U, Next," Cosmopolitan reported. On Instagram, Witherspoon shared a side-by-side shot of herself and Grande as Elle Woods lounging with her dog while studying. "Thank u, next," she wrote simply, along with a heart emoji and a clapping hands emoji.
Over on Twitter, Witherspoon added, "Can we please talk about @ArianaGrande's Bend and Snap?! 10/10 nailed it! #thankunext." Grande ultimately replied with, "Omg we tried to put our own twist on it so legal wouldn't come for us but THANK U. this is the biggest honor. love u more than words."
Even Kris Jenner posted a shoutout via Instagram — complete with her only line in the music video, "Thank you, next, b*tch." Because she's not like a regular mom. She's a cool mom.
In short, Ariana Grande's "Thank U, Next" music video is epic — and its genius didn't go unnoticed by the celebrities it directly or indirectly involved. And if you ask me, their reactions were almost as amazing as the video itself. Almost. BRB, gotta watch the video at least half a dozen more times in a row.
This first-time mom wants to have a home birth, but is she ready? Watch how a doula supports a military mom who's determined to have a home birth in Episode One of Romper's Doula Diaries, Season Two, below. Visit Bustle Digital Group's YouTube page for the next three episodes, launching every Monday starting November 26.