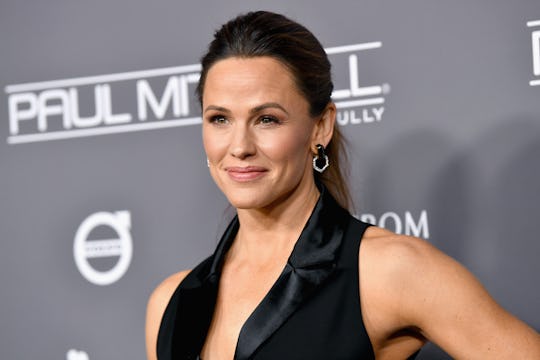 Emma McIntyre/Getty Images Entertainment/Getty Images
Jennifer Garner's Reply To A New Mom Looking For Fitness Advice Is Perfection
Any time you look or feel differently than you'd like to can sometimes be a challenge. Regardless of what about yourself you'd want to change, sometimes you might turn to others for advice on how to get where you want to be. And it's not all that surprising that, particularly in the age of social media, some people turn to celebrities they admire for that advice. But Jennifer Garner's reply to a new mom looking for fitness advice was just what you'd hope to hear from a celebrity in an industry where, all too often, moms (especially new moms) are held to challenging, dangerous, or just downright impossible standards of appearance.
On Monday, Nov. 12, news broke that Stan Lee, a comic book writer, editor, publisher, and one of the co-creators of tons of popular and iconic Marvel Comics characters, had died. Unsurprisingly a number of celebrities and fans took to social media to post tributes. Garner, who played the role of Elektra in the 2005 film of the same name, posted a photo of herself in character, thanking Lee for giving her (and other women) the opportunity to play a superhero. "You made heroes out of women; I am so grateful to have been one of them," Garner captioned the post. "Thank you, #StanLee. RIP 😇 #Daredevil #Elektra #mostcreativekindestgentleman❤️"
Fans were quick to comment on — what else — her appearance in the photo, as well as to share thoughts about Lee. One Instagram user left a comment very much on the same topic as many others, noting that Garner's abs were fierce — before asking for any fitness advice that the actress, mom, and entrepreneur might give a new mom like herself. "those abs though," the commenter wrote, "Any tips for a mom of three with a one week old at home?"
Garner replied with what can really only be described as picture-perfect advice. "Let your body heal and pat yourself on the back for your amazing work," she wrote. "There will be time for workouts soon enough xxx congratulations on your family xxx"
There's so much pressure on moms to immediately "bounce back" after giving birth and honestly, there's no reason for it. Though the commenter may not have expected Garner to respond in this way, other Instagram users were quick to applaud Garner's comments.
"I'm 11 weeks with my first, and perhaps naturally, have found myself somewhat worried about how I will address my changing body after our little miracle arrives," one user wrote. "Your guidance just gave me so much peace and perspective. Thank you."
"I remember your comment about your 'permanent baby bump' or whatnot from a few years back," another added. "Words to live by! You're a hero to moms everywhere!"
It may not be every day that I say this, but the Instagram commenters are right. This is great advice because there's no need for brand-new moms to force themselves or their bodies to recover more quickly than they can or should, especially if the reason they might think they need to is because of what someone else expects of them. Garner was spot-on with this advice — it's the sort of thing that all moms can take heart in hearing.