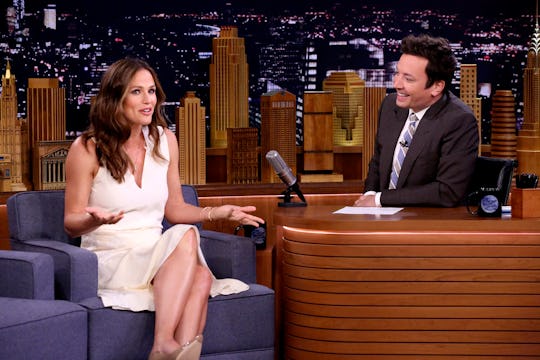 Andrew Lipovsky/NBC
Please Enjoy Jennifer Garner's Wild Story About Getting Stranded At Sea With Her Daughter
Some family trips are bonding experiences, and sometimes, the memories of things that went wrong actually make for the best tales. And, honestly, Jennifer Garner's story about getting stranded at sea with her daughter will be one of those memories you laugh about later... and probably a little bit right now, too.
As the actress explained on a recent appearance on The Tonight Show Starring Jimmy Fallon, it all started out simply enough. Garner, wanting to reward her daughter, Violet, for finishing her culminating 6th grade project on a country of her choice, took the 12-year-old to the nation she focused on for her school project, Sweden, for a mother-daughter trip.
Garner — star of the upcoming action thriller Peppermint — thought that an easy day of kayaking would be in order. But things went astray when what Garner and Violet thought would be a short river trek of minutes turned into a much longer outing.
"An hour later, we were not back, and not only that, all of a sudden, there were huge bridges going over, there were big boats, and [the waterway] went from very small to quite wide," 46-year-old Garner told Fallon, laughing now at the memory. "And Violet said, 'There's a stoplight.' And it's a loch to the ocean! A current is pulling [our kayak] to the ocean! [And here's] my baby! So we're turning around, I'm going as fast I can."
Trying to keep calm and carry on for Violet's sake, Garner told Fallon she said, ''Let's sing 'Mamma Mia.' We're in Sweden," before realizing she had her cell with her. "And I call the people and they're like, 'Yah, turn around.... Suddenly, we saw this blond human with the sun behind him like a halo, and he was coming to our rescue. He showed up, and he led us back. And his name was Mattias! I'll never forget Mattias."
Last month, Garner shared a bit of the ordeal on Instagram, writing:
On a pre-middle-school sneak away with my eldest...Did I get us lost in a kayak? Yes. Did we paddle as hard as we could for 100 hours and end up in a shipping lane? I'm afraid so. 😬 Did we have to be rescued? Yup.
It hasn't all been so chaotic for the actress. Recently, Garner — who shares three children with ex-husband Ben Affleck: Seraphina, 9 and Samuel, 6, and Violet — received her star on the Hollywood Walk of Fame, for which she invited her whole extended family and allowed her kids to be photographed as part of the event, as she explained to Fallon and seen in this photo below.
"My career is [usually] a separate thing I do," she explained on the show, admitting how nice it was to have everyone in her clan, including her mom and sister, on the red carpet for the occasion.
Beyond her talented acting chops, Garner is also adored for posting her kids' notes and doodles on Instagram (including Samuel's continuing interest in bodily functions; hey, that could lead to a career in science, people).
And her #MomContent is always top notch. For instance, her offering this week regarding the difference for a mom between the start and the end of her summer got hundreds of thousands of likes.
Yup, Garner really seems to be on quite the roll lately, in addition to having published a New York Times op-ed piece about the importance of investing in early childhood development and education.
There's so much to love about Garner, and her latest tale just adds to this adoration. It might've been scary at the time, but trust me, Jen: The time my husband and I ended up inside a ship's cabin with kids suffering from Strep on international waters has become one of our favorite vacation stories. Your wild kayak ride may one day be Violet's favorite family story of all.