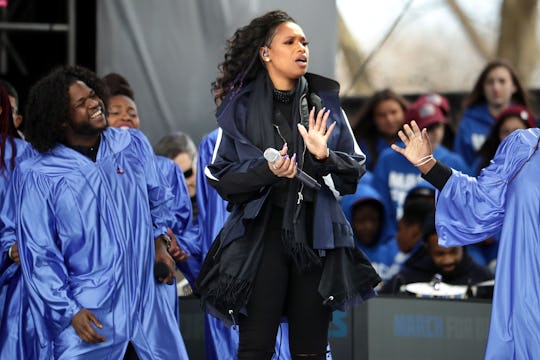 Chip Somodevilla/Getty Images News/Getty Images
Jennifer Hudson's Performance At March For Our Lives Was Everything
Jennifer Hudson is a talented singer, this we know for sure. Any time you get to see her perform, it's basically going to be amazing. But when Hudson performed at the March for our Lives closing ceremony on Saturday, it was a different sort of powerful. A haunting, heartbreaking performance at a student-led gun control rally from a woman who knows far too much about what gun violence can do to a family.
In 2008, Hudson's mother Darnell Donerson, brother Jason Hudson, and nephew Julian were all shot and killed by her former brother-in-law, William Balfour at her sister Julia's home in Chicago. Balfour was later sentenced to three life sentences, to be served consecutively, for the triple murder, which was apparently carried out as Balfour was in a jealous rage. It was obviously a terrible time for Hudson and her sister, losing so much of her family all in one fell swoop because of gun violence. And yet the Oscar-winning actress and singer has managed to turn that pain and suffering into advocacy, much like the students from Marjory Stoneman Douglas High School in Parkland, Florida who organized the March for our Lives. In both cases, gun violence changed the trajectory of their lives; the Parkland students saw 17 of their classmates killed by a lone gunman on Feb. 14. Both Hudson and the Parkland survivors are trying to effect change in the best way possible; peaceful, organized protest. And, in Hudson's case, a song that perfectly captures the spirit of the March for our Lives.
On Saturday, Hudson took to the stage with the D.C. children's choir to sing Bob Dylan's protest anthem "The Times They Are A Changin'" to close out the March for our Lives rally. She was joined on stage by the organizers of the event, Parkland students Emma Gonzales, Alex Wind, David Hogg, Jaclyn Corin, and Cameron Kasky. It looked to be a particularly emotional performance for Hudson, whose life has been so marked by gun violence. She spoke to the crowd near the end of her performance, saying:
We all came here for change today, right? We've all lost somebody. I'm sure a long time ago, you never thought you'd be standing here today. But we're all here today for a reason. We all got a story, we all got a purpose, and we all want change.
In the years since Hudson lost her mother, brother, and nephew, she has spoken out repeatedly about gun violence. During a 2015 interview with W magazine about her role in Spike Lee's Chi-Raq, when she plays a young mother whose daughter was killed by gun violence, Hudson explained how she struggled with the role:
This is my life. A part of my life. And I definitely had that moment of like, 'Are you serious?' But when I really thought about it, I understood why he came to me and I thought, 'You know what? It's worth me telling my story so that hopefully no one else has a story like this to tell.'
Hudson wasn't the only celebrity at the March for our Lives rally whose life had been deeply scarred by gun violence. Former Beatles' front man Paul McCartney was on hand to speak out at the rally for the need to end gun violence, and he noted during an interview with CNN that "one of my best friends was killed in gun violence right around here, so it's important to me."
McCartney was talking about John Lennon, his former collaborator and one of the greatest artists of the 20th century, who was gunned down by Mark David Chapman in 1980 outside of his New York City home. Another voice silenced.
Thankfully, the March for our Lives proved that people will not be silenced any longer.