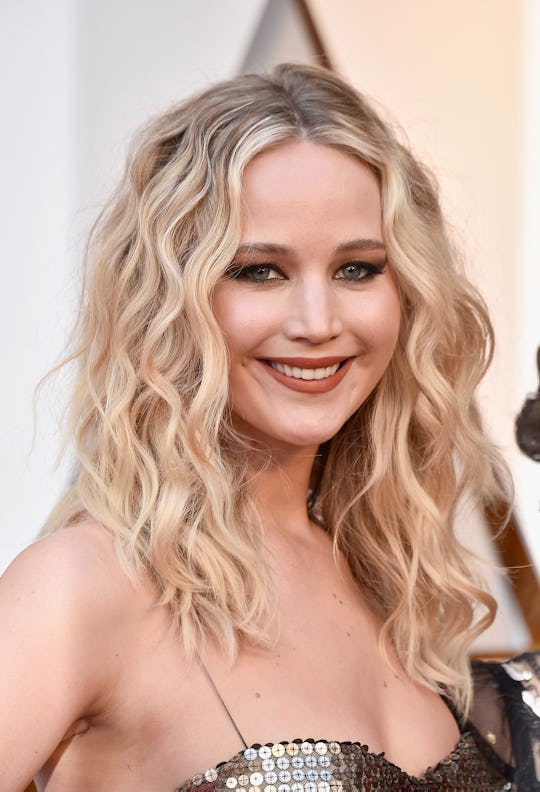 Frazer Harrison/Getty Images Entertainment/Getty Images
J Law Just Won The Oscars With This Totally Relatable Wine Glass Maneuver You *Need* To See
Oh, that Jennifer Lawrence. Love her or hate her, she manages to be one of those actresses who screams authentic. Which is why I, for one, adore her. Especially at this year's Academy Awards ceremony. Not only was Jennifer Lawrence climbing over seats at the Oscars, the girl did not spill one. Drop. Of wine. I mean... mic drop.
The actress was on hand at the Academy Awards for a pretty momentous reason; when last year's Best Actor winner Casey Affleck backed out of presenting this year's Best Actress Oscar, Lawrence and fellow actress Jodie Foster stepped up to the plate. It's a big deal for women this year, particularly considering the end of the longstanding tradition of the Best Actor handing over the award to the Best Actress, for this year at least. And Lawrence is a big part of that. How does our girl handle this heavy responsibility, you ask? By climbing over seats at the Oscars, heels on her feet and wine glass in one hand, long dress clutched in the other. And honestly? She handled it like the boss that she pretty much always is, seemingly unconcerned that seat climbing isn't really, like a thing at the Oscars, generally speaking.
Of course, fans took to Twitter to share their appreciation of her moves, probably because they recognize themselves. Because honestly, who in this world has the time to walk all the way around?
There's a whiff of deja vu to Lawrence' moment of incredible balance, of course. Fans will remember when she won her first Best Actress Oscar in 2013 for her role in Silver Linings Playbook. Back then, her balance wasn't exactly epic. In fact, she fell on her way up to the podium and managed to be cushioned solely by the sheer volume of her Dior gown.
To her credit, Lawrence managed to simply shrug off her fall. She made her way up to the podium to accept her Oscar and said:
Thank you! You guys are just standing up 'cause you feel bad that I fell and that's really embarrassing, but thank you.
And as she spoke to the press later, when a reporter asked whether or not the fall had been intentional, the actress deadpanned, "Absolutely."
Lawrence' climb along the stairs at the Oscars wasn't her only tweetable moment of the night. She sat beside one of her best friends, Emma Stone, who won Best Actress for her role in La La Land last year. As we all remember, La La Land was erroneously named Best Picture in 2017. And Oscar host Jimmy Kimmel quipped that perhaps "This year, when you hear your name called, don't get up right away. Give it a minute."
While it wasn't a direct slur at Emma Stone... Jennifer Lawrence had no trouble trolling her friend over the joke. Because honestly, what are friends for if they're not there to keep you grounded, right?
It's actually quite a phenomenon, managing to be the center of attention at the Oscars without (apparently) trying. Without even being nominated for anything either, actually. And it's also such a J-Law thing to do. I get the impression that this girl doesn't really know how to do anything other than be authentically J-Law at every turn. Whether she's climbing over chairs at the Oscars in a perfect, shimmering Wonder Woman-esque gown without spilling a drop of her wine or mocking her incredibly famous friend, she really does pull in the gaze. Because I suppose that's what happens when you're one of those people who never stops being you... people can't help watching.
But after seeing J-Law navigate those chairs, if she falls again I'm just not going to believe it.