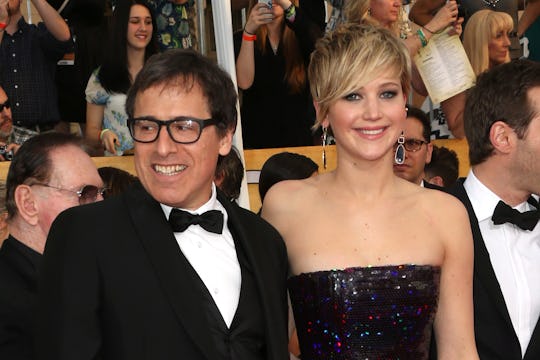 Jennifer Lawrence Thanked David O. Russell Again, Proving These 2 Are An Unbeatable Duo
After her Oscar nomination for Best Actress in a Leading Role for Joy, Jennifer Lawrence thanked director David O. Russell in a heartfelt statement. This is the fourth time Lawrence has been up for an academy award (making her the youngest actress ever with four Oscar nominations), and here's what she had to say about it all:
"I am beyond grateful and humbled by this nomination. I feel incredibly honored to be recognized among the other amazing women in this category. Joy is an incredibly inspiring story about an ordinary woman who does extraordinary things. For me, working with David O. Russell has been nothing short of extraordinary, and I share this nomination with him as well as our incredible supporting cast. I could not be more proud to be a part of this film and thankful to the producers and Fox for their unyielding support."
It's a beautiful response that acknowledges the many talented women in Hollywood, the inspirational quality of Joy, and the obligatory shoutout to the producers.
She also expressly thanks David O. Russell, even going so far as to say she "share[s] the nomination with him." Lawrence seems to mention Russell a lot, including in her Golden Globes acceptance speech last week.
Now that is some serious love for your director.
Of course, it makes sense that Lawrence would have a special place in her heart for Russell. They've worked together on Silver Linings Playbook, American Hustle and Joy, all three of which have earned Lawrence an Oscar nod. They clearly create great movies together, and so it makes sense that they would continue to collaborate.
But this seems like more than your average co-worker relationship. The director and his star actress seem to have some sort of deeper connection. Russell refers to it as a "shorthand" in an interview with KTLA, saying that they have a "trust and respect for each other."
Perhaps it's even more meaningful than trust and respect. In an interview with The Hollywood Reporter, Lawrence and Russell say they have a "soul connection." That sort of depth seems to come through clearly when Lawrence mentions them being future graveyard neighbors.
Whatever it is, we hope these two continue to work together and make more incredible films. They love each other, and we love them.
Images: Frederick M. Brown, Handout/Getty; Giphy