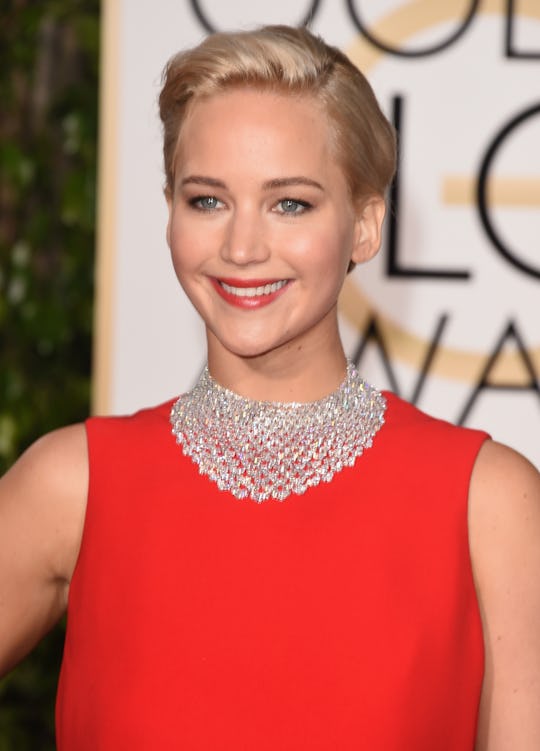 Jennifer Lawrence Wins Best Actress, Comedy Golden Globe, Beating Out BFF Amy Schumer
Since the 2016 Golden Globes nominations were announced in December, the Best Performance by an Actress in a Motion Picture — Comedy or Musical category has been a particularly agonizing one for fans because so many beloved actresses were nominate in the same category. The Hollywood Foreign Press had to choose one, though, and so Jennifer Lawrence won the Golden Globe for Best Actress in a comedy.
Check out this contest: the nominees included Jennifer Lawrence for Joy, Melissa McCarthy for Spy, and Amy Schumer for Trainwreck, plus two greats, Maggie Smith for The Lady in the Van and Lily Tomlin for Grandma. Aahhhhh! How do you make that decision??? And yet it had to be done.
Jennifer Lawrence evidently swayed voters with her irresistible performance in the title role of Joy. She plays a divorced mother of two who invents the Miracle Mop, a product that becomes an overnight sensation on QVC, and the drama of building a business when those around you seem to be underestimating you or actively thwarting you the whole way. Directed by David O. Russell, who Lawrence worked with on Silver Linings Playlist and American Hustle, Joy proved yet another vehicle for Lawrence to display her range. It's a comedy, but also a story of an ordinary individual discovering previously untapped veins of badassery in herself, and there's pretty much nothing J. Law does better. Apparently the Hollywood Foreign Press agreed.
In her acceptance speech, Lawrence thanked Russell and Joy Mangano, the woman on whose true story Joy is based. She told Russell:
Every time I'm up here, it is because of you. Thank you for choosing me. Thank you for your brilliance. Thank you for teaching me so much — professionally, personally. Your love of cinema is so pure, and you're so untainted by all of this. You make movies like you don't even care if anyone ever sees them. And your — I mean that as a compliment.
To Mangano she said, "Thank you for your story. Thank you for giving so much. It was such an honor to play this character." In closing, she told Russell, "I want us to be buried next to each other."
But that wasn't even the best part. The best part is that BFF Amy Schumer seemed genuinely happy for Lawrence. Because friendship.
Image: Jason Merritt/Getty Images Entertainment