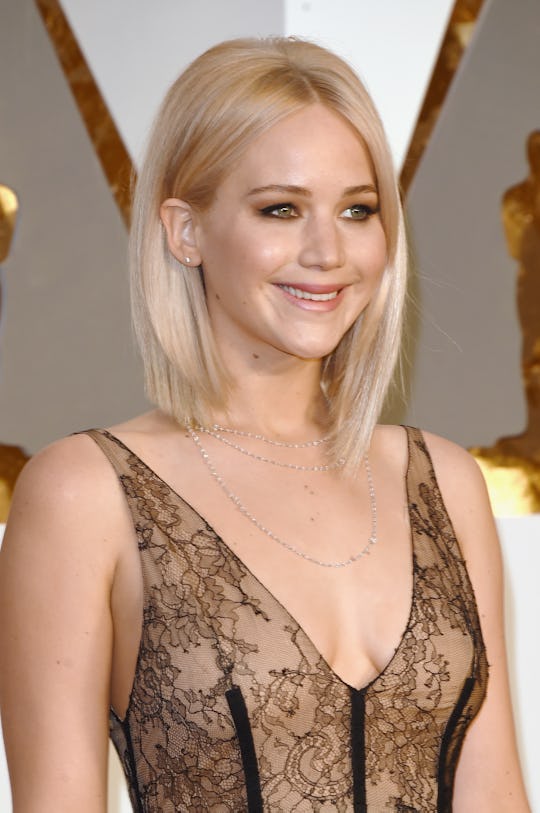 Jason Merritt/Getty Images Entertainment/Getty Images
Jennifer Lawrence's Oscars Dress Marks A Beautifully Dark Turn For The Bright Actress
Anytime J. Law is nominated for anything, there's interest in what she'll wear to probably win the award, but there's always particular interest in Jennifer Lawrence's Oscars dress. You'd think there might be less interest considering that Lawrence's contract with Dior means she'll be wearing its designs, and only its designs, at least through 2017. But her look is so gorgeous every. single. time. that you can't look away, or stop looking forward to the next one. And the Oscars, especially, is when fans look forward to Lawrence's look, considering that the gown she wore in 2013 when she won Best Actress for Silver Linings Playbook was one of the most beautiful ever (and her tripping in it on the way to accept only made her more lovable).
Lawrence set the bar high for herself again this year with her Golden Globes look, a red cutout dress that was both elegant and sexy, according to The Hollywood Reporter, and harkened back to the show-stopping Calvin Klein dress she wore her first time on the Oscars red carpet in 2011, when she was nominated for Best Actress for Winter's Bone. And proving once again that a good dress is sometimes a good luck charm, she won the Globe for the title role in Joy. Sunday night she's up for a Best Actress Academy Award for the same role, so chances were good that her look would be even more of a stunner.
Guessing the designer wasn't hard, obviously, but predicting exactly what Lawrence's exact look was more challenging. InStyle's commentators hoped that, since Lawrence isn't the leading contender (Brie Larson is totally the favorite), she can "have a little fun" — maybe even wear a jumpsuit?
When Lawrence actually showed up, her ensemble was a fairly dramatic departure from her usual sartorial fare: a black, largely sheer, Dior Haute Coutour ball gown. It looks, as you might expect, completely flawless on the nominee:
That tailoring, though.
And fans weren't disappointed at all:
Lawrence was a bit late to the party, but at least she was fashionable as hell about it.