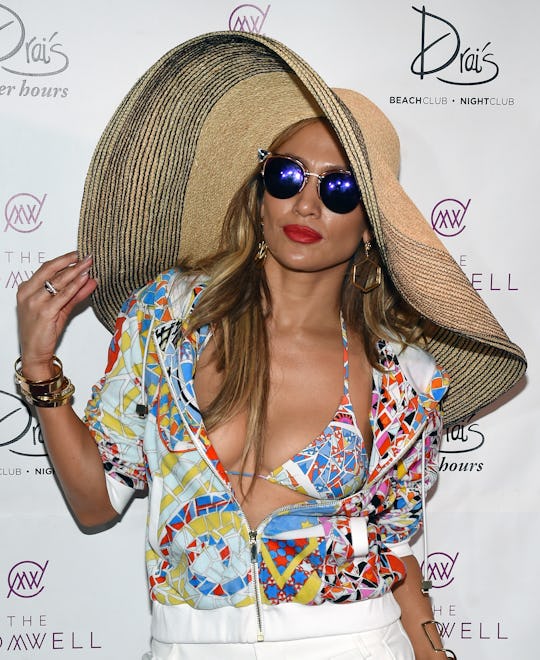 Ethan Miller/Getty Images Entertainment/Getty Images
Jennifer Lopez Uses #AllLivesMatter With A Lin Manuel Miranda Photo, & People Freak Out
On Tuesday, in a quickly published-and-deleted move on Twitter, Jennifer Lopez posted a picture using #AllLivesMatter and a photo of her and Lin-Manuel Miranda. The tweet was quickly removed after drawing ire from fans, who expressed everything from rage to scorn to disappointment at her use of the hashtag.
The picture Lopez shared was captured during her and Miranda's live TODAY performance of "Love Make the World Go Round," their recent collaboration and tribute to the victims of the Orlando shooting in June. Proceeds from purchases of the song will go directly to the Somos Orlando fund, which will provide bilingual mental health services to families of the victims and others in their communities.
Knowing the backstory, it could be that Lopez (or one of her PR people in charge of tweeting on her behalf, of course) took the hashtag to somewhat confusingly emphasize the Latino and LGBTQ lives lost in the Orlando attack. However, the #AllLivesMatter hashtag has come to be known as a rather negative response to the #BlackLivesMatter movement — a way of saying, "Well, not only black lives matter, all lives matter!" and generally dismissing the black community's very real concerns (concerns that other communities in the United States simply don't have to face).
Romper reached out to Jennifer Lopez's representatives regarding the tweet, but did not hear back immediately. Whatever the reasoning behind Lopez's use of #AllLivesMatter was, the message didn't last long — the tweet was swiftly deleted after Lopez received instant backlash from other Twitter users. Other recent tweets by Lopez promoted "Love Make The World Go Round" without making use of any controversial hashtags.
Along with many screenshots of the short-lived tweet, there was plenty of criticism to be found on Twitter. Reactions ranged from confusion to downright fury, with one user responding to Lopez's #AllLivesMatter tweet with, "So, march with the #BlackLivesMatter. Don't look down on us or brush us off."
Considering that "Love Make The World Go Round" is actually an enjoyable song with a beautiful message backing it, it's a shame to see an #AllLivesMatter hashtag obscuring it. Hopefully Lopez will issue an explanation for her hashtag choice soon, so we can all go back to enjoying "Love Make The World Go Round" as our new summer anthem unencumbered. (Otherwise, I plan to enjoy it all the same — and considering it features Miranda, donates money to a good cause, and promotes a pretty loving message, I'll forget the brief life of that #AllLivesMatter tweet.)