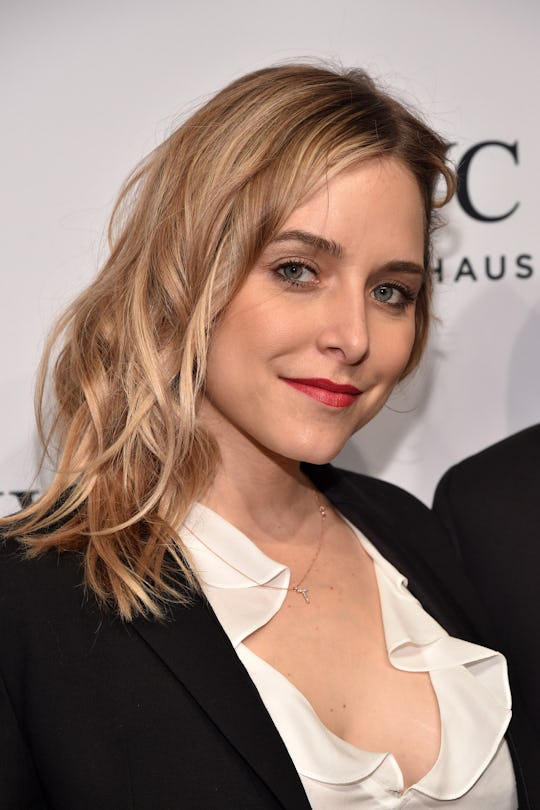 Bryan Bedder/Getty Images Entertainment/Getty Images
Jenny Mollen Pumping Breast Milk In An Airplane Bathroom Will Make You Say "Hell Yeah!"
I always have a terrible time trying to use airplane bathrooms. They're very small, as I'm sure you've noticed, and not really conducive to sort of spreading out and getting stuff done. Like doing your make-up, changing out of your airplane clothes... or pumping breast milk. I mean, I can barely use the toilet in those things. So when I saw Jenny Mollen pumping breast milk in an airplane bathroom on Instagram, I was duly impressed. The girl clearly has some skills.
The Angel actress is married to Orange Is The New Black actor Jason Biggs and is mother to 6-week-old son Lazlo and 3-year-old son Sid. She has made a name for herself as a member of that new breed of celebrity, the super-real social-media mom (for other members, see Pink, Kristen Bell, and Chrissy Teigen). As a celebrity mom who doesn't take herself too seriously, Mollen likes to post pictures of herself using her super-sweet, high-end breast pump. I mean, her Instagram handle is Jennyandteets2, so... you see what I mean here. And her latest series of pics posted on Instagram Stories is especially relatable. Mollen took a breast pumping selfie using the airplane lavatory mirror on Tuesday and captioned the amazing photo:
Remember that Kelis song, "My milkshake brings all the boys to the lavatory"?
Mollen's followers loved the photo, of course, and were quick to share similar stories of pumping in tiny spaces.
"I've had to do this exact same thing on a plane. If you can laugh at yourself in times like that it's impossible to not cry. LOL. You know. Cause hormones," one follower wrote.
Another commented, "This is absolutely awesome. Thank you for supporting pumping working moms!"
One more follower actually had a little advice that might make pumping easier for Mollen: "Just do it at your seat. I've done it. Then you can just keep watching Netflix too..."
Mollen went on to share another breast pumping selfie, apparently on set, with the caption that she is planning to use this pic as her "next book cover."
Mollen doesn't just post breast pumping selfies in the air either. Oh no, she takes things to the next level completely. At the beginning of November, she shared a sweet picture of herself breastfeeding tiny son Lazlo, who was born in October, as son Sid watched from his stroller. She captioned that photo:
People often ask what it's like raising kids in NYC...
As for pics of her adorable kids; if you're not utterly in love with this picture of baby Lazlo passed out with that "milk drunk" look on his face breastfeeding moms all recognize, I don't know how to help you. Especially when Mollen draws a far-too-accurate comparison in her caption:
I always say Lazlo reminds me of that drunk sorority girl at a party who refuses to believe she is fucked up and already half unconscious. Here is a shot of him milk drunk while I hold back his hair.
That face, right? It gets me right in the ovaries.
Indeed, Mollen's Instagram feed reads like a regular mom's postpartum diary, complete with C-section scars, leaking breasts, and exhausted dad Biggs sleeping in bed when he was supposed to be watching baby Lazlo. I know it's not everyone's cup of tea, as some of the nastier comments on her Instagram feed will attest to, but I kind of like it. I think celebrity moms who create this community, who open up conversations about pumping breast milk, juggling careers and babies, and generally just not trying to seem perfect, are helping other moms feel seen.
And to feel like they're not alone. What could be more important than that?
Check out Romper's new video series, Romper's Doula Diaries:
Watch full episodes of Romper's Doula Diaries on Facebook Watch.