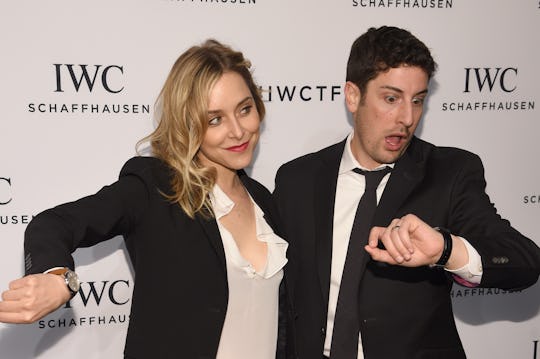 Dimitrios Kambouris/Getty Images Entertainment/Getty Images
Jenny Mollen Parenting Tweets To Improve Your Day
Don't expect Jenny Mollen to hold back — not in real life, and definitely not on social media. The actress and New York Times bestselling author seriously rivals Twitter aficionado Chrissy Teigen in originality, spunk, and controversy. And the two have something else in common, too: They're both mothers to adorable kids, both of whom play a major focal point on their respective moms' Twitter feeds. And, because she announced that she has another one on the way this week, Jenny Mollen's funniest parenting tweets are probably only a sneak preview of what's to come.
Mollen alerted the world that her 3-year-old son, Sid, is about to become a big brother with an Instagram post of herself and husband Jason Biggs using a nasal aspirator in bed Wednesday. "This is how I told my son babies are made," she captioned the post, adding the hashtag "#numbertwo."
And on Thursday she followed up to share with followers "the joys of expecting" with a nude photo featuring her bump and Sid in the shower, and received a deluge of critical comments in return. It was far from the first time her social media sharing has caused waves on the internet: There was the incident in which the breastfeeding mom posted a photo that showed her bare breast, and the time she posted a series of clips showing the lead-up to Sid's 2014 birth.
And, just like Teigen, who was open about her decision to get pregnant (with a daughter!) via IVF, Mollens is also incredibly open. In 2014, she wrote an essay for Cosmopolitan about having had a miscarriage six years before.
So, of course, Mollen's parenting tweets are equally raw — and naturally hilarious:
Anything For A Nap
Can you really blame her for wanting to let the kid snooze for as long as possible?
Homebound
Because handing out with a toddler for hours on end can be tough.
International Women's Day
Mollen is totally dedicated to raising Sid as a feminist who respects women... starting with his mom. This adorable video, posted on International Women's Day March 8, shows she may have some teaching yet to do.
"Nude Selfies"
"I'm so grateful I didn't grow up in an age where my parents possessed the technology to take nude selfies," Mollen tweeted recently, about a month before she... posted a nude photo to Instagram. Hey, at least it wasn't actually a selfie — Sid and his future brother or sister should be grateful enough for that. (You can almost hear the God, mom! You're so embarassing! now.)
President Or Toddler?
Mollen undoubtedly spends lots of time with her own toddler son, and it seems as though she starting to recognize some traits of the under-3 set in President Donald Trump himself. Let's just hope Sid didn't actually feel this way when she found out about his soon-to-be brother or sister.
Another Trump Jab
Burn.
What Do You Mean?
It's impossible not to love this video of Sid relaxing on a deserted dance floor to Justin Bieber's "What Do You Mean?"
Santa's Coming!
But the very best part about this adorable Christmas photo is the fact the Santa's milk is in a wine glass, in my opinion.
If such a thing as Twitter royalty exists, Mollen is right there with the best of them.