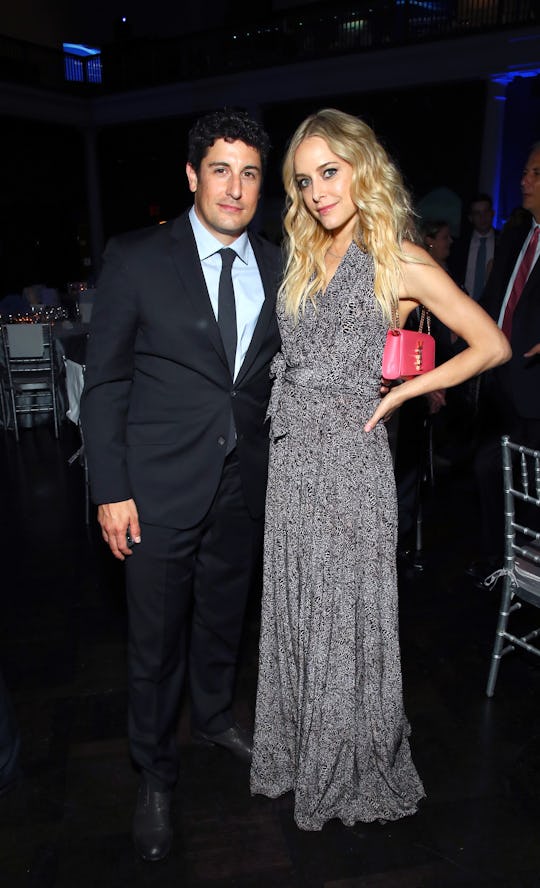 Astrid Stawiarz/Getty Images Entertainment/Getty Images
Jenny Mollen's Photo Of Her Pee-Soaked Pajamas Will Give Every Mom Of Boys Serious Flashbacks
Sometimes I get terribly bitter about all of the things people didn't tell me to expect when I became a mom. The temporary patches of baldness were a bit of a shocker, for instance, as was the ever-present exhaustion. But there are some things I'm glad I didn't know ahead of time, because if I had I might not have wanted to be a mom. Like the fact that my precious sons would pee on me, and pee on me often. When I caught a gander of Jenny Mollen's photo of her pee-soaked pajamas, I knew without reading the caption exactly what happened. She didn't cover that penis when she was changing the diaper. Rookie mistake.
The actress and author isn't exactly a rookie; she and her husband, Orange Is The New Black actor Jason Biggs, have two sons, 4-year-old Sid and 8-month-old Lazlo. Considering how often she shares her mom experiences on social media, one would wouldn't miss this step when it came to diaper changing time. To be fair, though, it's a very easy detail to forget if you're tired, or it's in the middle of the night, or if you're struggling with mom brain (those brain cells that never quite seem to come back, in my experience).
And just as I expected, Mollen admitted in the caption of the hilarious pic she shared on Instagram on Thursday that she did not, in fact, remember to cover her son's penis when she removed his diaper. "They always tell you to cover the penis before you open the diaper... #boys"
I'm not judging Mollen — I've been there. After all, my own 6-month-old son once managed to pee over my shoulder as I changed his diaper and hit the soda can on the coffee table behind me. Because, as you guessed, I forgot to keep his boy parts covered while doing the diaper switch. Nobody told me this was a thing. So for those of you out there expecting a little boy, please take it from me and Jenny Mollen: it's a thing. Boys tend to pee all over everything when they're babies, and I'm mostly sure it's accidental. Like, 85 percent sure.
Fortunately for moms giving birth in the digital age, there are generous ladies like Jenny Mollen who are willing to share all the dirty details of motherhood. Forewarned is forearmed, right?
The Live Fast Die Hot author has made a real name for herself by being almost painfully honest about her experience as a new mom and a wife, not to mention how she manages to balance those two roles. She recently got super real with Us Weekly about how breastfeeding changed her body, and what it did to her sex life. She told the publication:
Something nobody tells you after having a baby is that as long as you're breast-feeding, your vagina is a post-menopausal desert and you don't know that until you bring it up with your doctor and he's like, "Oh, that's normal." Now that I'm not breast-feeding, things are normal down there.
That's one of the great things about moms like Jenny Mollen; all of those well-protected ~*mysteries*~ of new motherhood are being cracked wide open. She's real about parenting, and she seems to be loving it.
And it sounds as though Mollen and Biggs, who were married in 2008, might not be quite finished yet. Biggs told People earlier this month that he would consider "retiring" after they have their third baby. Apparently he's hoping for a girl, and I bet it's because he's gotten tired of being peed on by baby boys.
Since I am exclusively a mom of boys, I have no clue if girl babies pee on their parents. But if Mollen ever has a daughter I'm sure we'll all find out in due time.