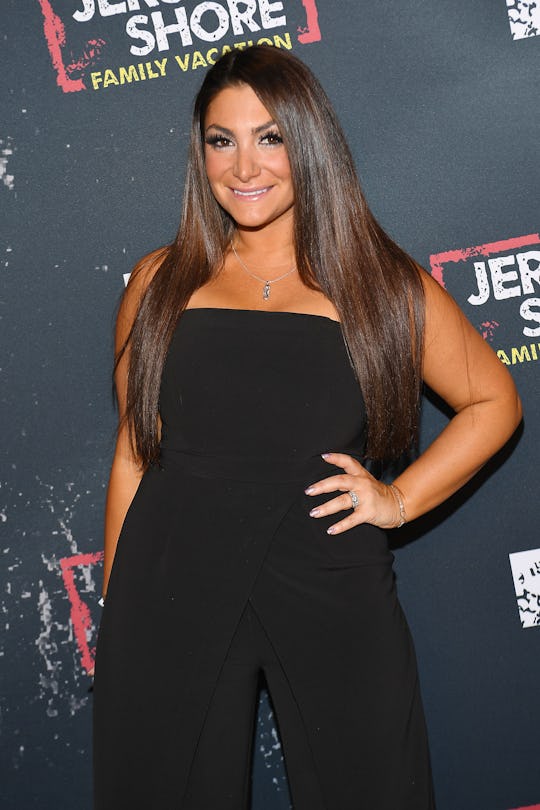 Dave Kotinsky/Getty Images Entertainment/Getty Images
Deena From 'Jersey Shore' Says She Was "A Nervous Wreck" Dealing With A Pregnancy Scare
Along with feelings of excitement and anticipation during pregnancy, many women experience fear and anxiety. All of the unknowns while your little babe is growing can make you anxious to see with your own eyes that all is well. Jersey Shore's Deena Cortese opened up about her pregnancy scare and the fear that accompanies such an experience.
Cortese and husband Christopher Buckner announced this past July that they're expecting an addition to the family, as Cosmopolitan reported. Their baby boy is due in December and the couple couldn't be more excited. "Chris and I Decided to wait until we were ready to spill the beans! Now that we are safely into our second trimester.. us and our little monkey are ready to tell the world Our little family is growing!" Cortese captioned the Instagram post that doubled as a pregnancy announcement. The post also included the name that they chose for their little one: Christopher John.
While sitting down with her Jersey Shore Family Vacation costars on Thursday's episode, Cortese explained that she had been put on bedrest recently, according to OK! Magazine. "Last week, I had a scare," said she said, tearfully. "I get emotional because it's scary. I just started bleeding, but I'm fine." She went on to share that her husband was her rock throughout the ordeal. "Honestly, the scariest moment in my life. "I was a nervous wreck, but [Buckner] was so calm, thank God," she said.
Fortunately, all is well with both mother and baby. However, she will not be joining her costars at the shared vacation house in order to get the rest that she needs, as reported in People, as she explained during Thursday's episode:
The baby's fine. The doctor wanted to put me on bed rest until my follow-up appointment 'cause I'm still spotting. I just think it might be better for me not to live in the house, but I'd love to come and visit you guys and maybe me and Chris will come down for a weekend or something.
There are a number of reasons why an expectant mother could experience spotting during pregnancy, and they vary in severity. Generally, the color and amount of blood indicates the cause and whether or not you should worry. According to What To Expect, there is a big difference between spotting and bleeding while pregnant. Spotting comes with brown or pink blood, like what comes at the end of a menstrual period, while bleeding is bright red. Spotting also doesn't soak a sanitary napkin, while bleeding can.
It also matters when during pregnancy bleeding occurs. Very Well reported that early on in pregnancy, it could be something harmless like be implantation bleeding or cervical irritation, but could also indicate a miscarriage. Late pregnancy bleeding can be indicative of placenta previa, placental abruption, or preterm labor, according to Parents. However, regardless of when and how you bleed during pregnancy, it is wise to get checked out. Laura Riley, M.D., author of Pregnancy: The Ultimate Week-by-Week Pregnancy Guide, told Parents:
No matter when it occurs, even if you have less than a dime-size spot of blood, call your doctors or midwife immediately to be safe, as any vaginal bleeding during pregnancy can be a symptom of a larger problem. Be prepared to answer detailed questions about the amount of blood you've lost and a description of how you're feeling overall, advises
While Cortese and her husband likely had quite a scare when she started spotting, they can rest assured that their little guys is doing just fine. With her due date fast approaching, it won't be long until Cortese gets to meet her baby. And then, there's a whole new set of things to worry about. Oh, the joys of motherhood.