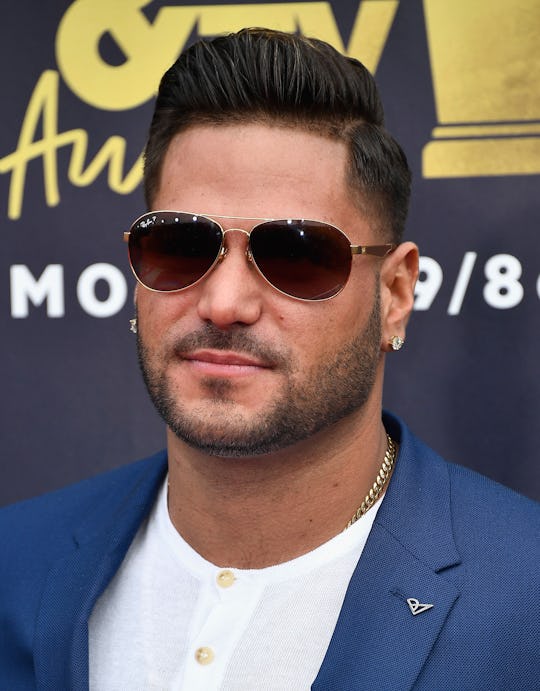 Frazer Harrison/Getty Images Entertainment/Getty Images
'Jersey Shore's Ronnie Is Getting Criticized For Dressing His 5-Month-Old In Ripped Jeans
Everyone knows that a side-effect of deciding to be a conduit for evolution and birth a child opens you up to some of the most unfair and confusing parent-shaming that exists, and everyone knows that there is no such place where that shaming is more intense than online. Though it's not entirely surprising to see people come out of the woodwork to voice their opinions on some otherwise innocuous choice, Jersey Shore's Ronnie dressed his 5-month-old daughter in ripped jeans, and fans all but had a heyday claiming the clothing choice was inappropriate at best, and dangerous at worst.
On Thursday, Sept. 6, Ronnie Ortiz-Magro posted a photo of his daughter Ariana Sky wearing a ruffled pink top, head piece and ripped jeans, as Us Weekly reported. "When you realize it's #Jerzday!!!" he wrote in the caption. However, fans were not unanimously supportive of the sartorial choice.
"I prayed for you and your daughter about what people are saying... please take wise counsel from all of us... this outfit is completely inappropriate for an infant," one comment read. "It is not so much the clothing..but what kind of example you are teaching her from infancy... Please know we all care and want to help."
Another wrote, "Just pleeeease be careful that those loose strings don't get wrapped around her tiny toes!"
Many other fans chimed in, however, to both support the assessment that the jeans were not OK, and to defend Magro's photo.
For starters, there's no legitimate scientific or health-related reason why a baby cannot wear ripped jeans. Though small strings do pose a small threat if it were to become potentially wrapped around a toe or finger, that issue is typically what's known as a "hair tourniquet" most commonly occurring from a long strand of hair from a parent or nearby adult, as explained by We Have Kids. Therefore, the argument that the outfit is wrong from a safety perspective might be a little extreme.
Ultimately, torn jeans are a matter of taste preference, and those who are claiming the outfit is "inappropriate" are really just exposing their judgement toward a certain style of dress.
Some fans did come to Magro's defense. "Very cute outfit. I'm confused about these haters. She's a baby and she would look cute in anything! They made this for babies so u can dress her in it!" one commenter chimed in.
"Okay so now we're dad shaming. I'm sickened by these comments... I can tell you all right now the livelihood of this baby literally doesn't really matter to any of you. Anything to get some likes on here, right? Let people live a little. I honestly think those jeans are adorable. But yea let's dad shame because I guess as 'mothers' y'all weren't getting enough of a reaction from other actual moms," another wrote.
This is not the first time that Magro was dad-shamed over something that should be a nonissue, or something that should simply be viewed with giving a parent the benefit of the doubt. Back in June, some of his followers were unhappy that Magro took his daughter to the beach, claiming that she was "too young" for it, although the photo did not indicate how long she'd actually been out in the sun.
Despite the drama, Magro has been excited to be a father since he found out his on-again/ off-again girlfriend Jen Harley was expecting. "I'm actually really excited. I have a lot of younger sisters, and I feel like this girl is going to make me softer," Magro told People while awaiting the arrival of his daughter, adding that he hoped she would "make me more normal and human," and that he is "really looking forward to the next chapter of my life."
Anyone who follows the former reality TV star will contest that he is undoubtedly committed to his daughter's well-being, and the least of anyone's concerns or comments should be what style of jeans he decides to dress her in.