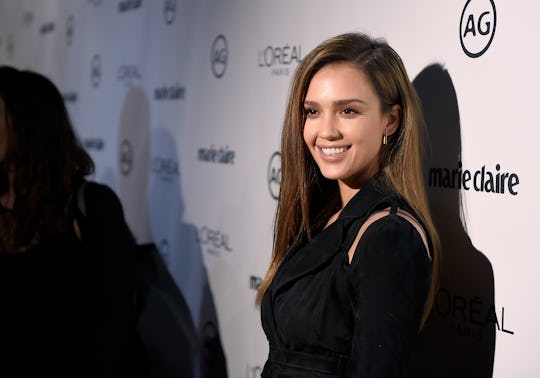 Matt Winkelmeyer/Getty Images Entertainment/Getty Images
Jessica Alba Reveals The Gender Of Her 3rd Child In The Cutest Way Possible
Jessica Alba and husband Cash Warren are used to "sugar, spice, and everything nice" — after all, they're parents to daughters Honor and Haven. But Alba and Warren are going to have to get used to a new rhyme with their new baby on the way. On Wednesday, Jessica Alba revealed the sex of her third child on Instagram — and boy oh boy it's exciting!
Alba not only starred in your favorite films of the early 2000s (who can forget Honey?) she is also the co-founder of your favorite diaper/gentle baby wash/cleaning product company, The Honest Company. If you were one of the founders of one of the biggest billion dollar businesses in the past five years, then your baby's sex announcement would probably look just like Alba's.
Alba shared a stop motion video of her and her daughters, ages 9 and 6, untying a box from The Honest company filled with balloons, streamers, and confetti in the color blue. Yes, it is going to be a boy for Alba and Warren and it will be their first. Alba's face could not be any more alive in the video and her daughters could not look happier to become big sisters. "Cash Warren and I couldn't be more thrilled to announce...#officiallyoutnumbered #babyboy #cantwaittospoilhim #hugsandkissesforlife #soontobemamaofthree," Alba captioned the super cute video.
In mid-July, Alba and Warren made the initial announcement on Instagram that they were expecting their third child, according to People, and therefore making them officially outnumbered. While Alba's due date is a little unclear, her pregnancy will give her a lot of time to think of the perfect name for her child — and lord knows she will need the help.
During a recent appearance on The Tonight Show with Jimmy Fallon, according to Business Insider, Alba revealed that she will name her new child with the same letter as her daughters names — "H." But the name can't be Harry or Herbert, and it has to be an object. Alba explained the specific rules to Fallon, according to Business Insider:
So my husband's name is Cash. It is a real, like that's his actual, real name on the birth certificate, so our kids had to have unusual names that are also words, and for some reason we chose "H." It has to be single or double syllable, has to be an "H" and also has to be a word. And it can't be too weird, because, ya know, like...a little unusual but, you know, what if they want to be a nurse?
She has a point. And with a son on the way, the naming process is about to get a little more difficult and this name matters — especially since Alba told E! News that her third pregnancy would be her last one. Personally, I'm a fan of Hunter (it fits the criteria perfectly).
But aside from getting the name right over the course of the next few months, Alba does have parenting on lock. Alba has plenty of experience from the previous years, not only being a parent to her own children, but by making products that parents love. This knowledge of what new parents are loving will certainly help Alba who hasn't been a new mom for a while. Still, Alba is so excited for the new baby to come, rather than anxious, telling People in August that she looks forward to "the cuddles" from her soon-to-be newborn.
Alba revealed to Us Weekly last year that she loves spending quality time with her daughters, bringing her girls with her on business trips just to have "mommy and me" time. "I just try to make the time I spend with them quality," Alba told Us Weekly.
Alba is going to have to make room for a little more quality time with her new one on the way. Her very exciting sex announcement brings her one step closer to doing that.
Watch Romper's new video series, Romper's Doula Diaries:
Check out the entire Romper's Doula Diaries series and other videos on Facebook and the Bustle app across Apple TV, Roku, and Amazon Fire TV.