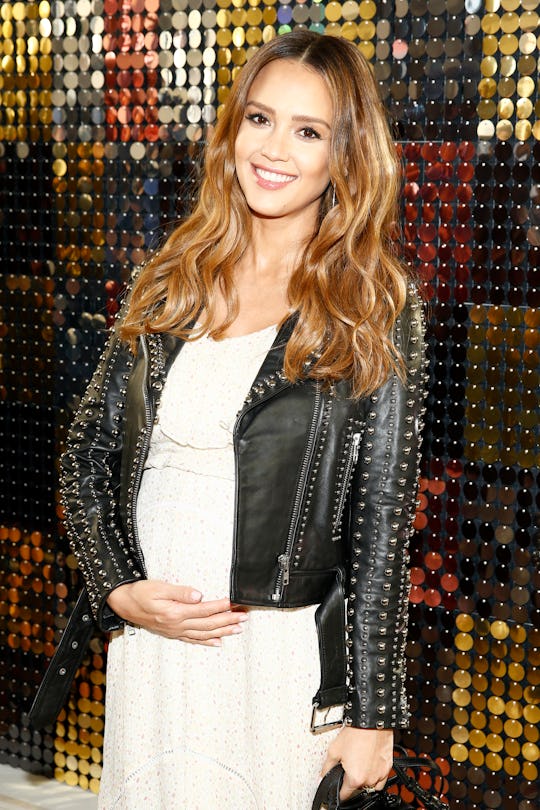 Brian Ach/Getty Images Entertainment/Getty Images
Jessica Alba Says She Wants A Son For A Stereotypical Reason That Needs To Be Put To Bed
I have to tell you, I'm generally a fan of Jessica Alba. The actress and Honest Company co-founder generally seems pretty cool, from a fan's perspective at any rate. But during a recent interview with Rachael Ray, Alba explained the reason she's excited to have a baby boy after being a mother to two daughters. And honestly? I didn't love it, not one bit.
The 36-year-old mom of daughters Honor Marie and Haven Garner talked with the talk show host about how the family (including husband Cash Warren) are adapting to the idea of having a baby boy in the coming months. According to Parents, Alba said her daughters had a few concerns initially:
My 6-year-old, she was worried about being a middle child, but she gets to be a big sister and a little sister, so she's stoked about that. And she doesn't have to compete with another girl.
OK, so I know she's probably just hamming it up for the audience, but even that sentence got my heated. That whole thing about girls competing? I mean, says who? Is that written into our genetic coding, predestined before we even plant one foot on this planet?
While I didn't love that, it was actually Alba's reason for wanting a son that made me squirm. According to People, she told Ray:
For me... the girls love their dad. I want someone to love me more.
Huh?
Again, I want to point out that yes, I can tell that Alba is (sort of) kidding around. But there's a desperately depressing, old-fashioned stereotype hidden in that joke. In fact, Alba's comments about parenting seemed to be (jokingly) chock full of old parenting stereotypes.
Here's another beauty: the fun "party" dad and the martyred, overworked mom. As she said to Ray during her interview, when Warren comes home their daughters are like:
"Daddy!" It's like a party. When I come home they're like, "Oh, hey Mom." I do everything for you! I cook! I do all the things!
And so it seems she is hoping for a son to bring balance to the Force, as it were. A little man who won't compete with his sisters, and will be charged with loving his mother the most in the world.
As a mother of four sons, I can safely say... best of luck to you, Alba.
Not because my sons don't love me, and to be fair I don't have any daughters to measure their love against, but because they are all 100 different shades of people. Mercurial, kind, hilarious, intense, laid-back, and yes, loving. Their personalities were not predestined by their sex. They are the people they are because of the choices they make, and maybe a little because of the choices I have made. Just as daughters are not predestined to compete with each other, to love their father more, or to treat their mother with offhanded disinterest.
I don't necessarily believe this is how Alba feels about the impending birth of her son; she's way too hip for that. As evidenced by her amazing Juno costume.
But I do think she was playing to the crowd, giving them what they wanted... and perhaps that's what concerns me the most.
Not that Alba — actress-turned-brilliant entrepreneur — said she wanted a son because he wants someone to love her more. But because her audience laughed along. Stereotypes are comfortable. They're familiar, they're easy — and they're almost always wrong.
There are so many reasons to be excited to have a son, trust me. I know from my own experience, my sons have opened my eyes to a different way of looking at the world. But I like to think this can be true of all children. If we don't decide who they are going to be before they're born, that is.
Watch Romper's new video series, Romper's Doula Diaries:
Check out the entire Romper's Doula Diaries series and other videos on Facebook and the Bustle app across Apple TV, Roku, and Amazon Fire TV.