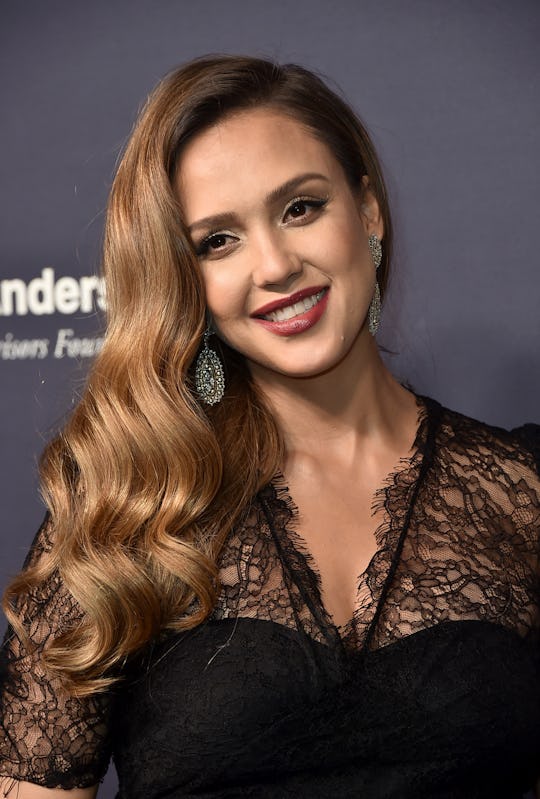 Frazer Harrison/Getty Images Entertainment/Getty Images
Jessica Alba Shared This Sweet Breastfeeding Selfie In Support Of #TIMESUP
Numerous stars made a statement on Sunday night by wearing black to the Golden Globes as a way of voicing their opposition to sexual harassment and inequality in the workplace, in all industries. Not every star who shared in the sentiments was able to make it to the award show, but that didn't stop them from expressing their solidarity. For example, Jessica Alba also wore black while she breastfed her newborn son during the Golden Globes, sharing her multitasking powers and chiming in on an important cause all at once.
Alba missed the Golden Globes to stay at home with her 1-week-old son, Hayes Alba, but she shared on Instagram that she was there in spirit. She dressed in the symbolic color, wearing a black top while breastfeeding Hayes in a sweet photo captioned, "Momlife." She also made a separate post about why she is participating in the Time's Up movement, saying:
#timesup #equality at home nursing my baby boy wearing a black in solidarity with all who demand equality and respect. #endsexualharassment #equalpay #equalrights #whywewearblack
She wasn't the only new mom who was chiming in on the movement from home. Mindy Kaling spent the night at home with her daughter, Katherine Swati, who was born on Dec. 15. Her Instagram post featured a bit of black as well, saying "Live from my home, #timesup. My black nursing bra is on display!"
The Golden Globes awards show was populated by many big names sporting black duds in support of the Time's Up movement, a show of solidarity with victims of sexual assault and harassment. Actresses like America Ferrara, Natalie Portman, Emma Stone, and more wore black gowns and Time's Up pins, while men like Justin Timberlake and Keith Urban also wore the popular pins, along with black shirts under their suits.
The pins were the result of a brainstorming session for the Time's Up initiative, created by fashion designer Arianne Phillips. Reese Witherspoon approached Phillips to design the pins and the accompanying logo for the movement after the holidays. Phillips explained to The Hollywood Reporter how it came to be:
Reese asked me to come to the actors' group, and told me they were going to be wearing black and would I consider creating a pin for the nominees and male presenters. We were up against the holidays, but I said I could do it, and the first person I called was my partner-in-crime, Michael Schmidt.
Schmidt is a jewelry designer who has worked with big names like Rihanna and Lady Gaga. The two designed the pin and logo in just two weeks, producing 500 of the pins for distribution. Phillips posted a photo of herself with one of the pins to Instagram with the caption:
Golden Globe viewing party planning y'all let's all toast & post in solidarity with women on the red carpet and everywhere standing up for change #timesup@timesupnow #whywewearblack
Time's Up is more than just little black dresses, black nursing bras, and trendy broaches. The movement backs a legal defense fund mostly supplied by members of Hollywood to connect less privileged victims of sexual assault and harassment with quality legal representation. It also includes a task force developing ideas for legislation and motivating studios and talent agencies to have more equal employment. To donate to the Time's Up Legal Defense Fund, visit the Go Fund Me Page now.
A lot of important issues were raised at the 2018 Golden Globes, including the lack of female director nominees and the continued need for parents to raise a better generation of children. The fact that Alba and Kaling showed their support for the cause from home is proof that the fight for equality doesn't have a set venue. You, too, can join the fight by voicing your own opposition to sexual harassment and assault, whether that be wearing black while breastfeeding, donning a pin, calling out injustices when you see them, or letting others know you're standing with them.
Check out Romper's new video series, Romper's Doula Diaries:
Watch full episodes of Romper's Doula Diaries on Facebook Watch.