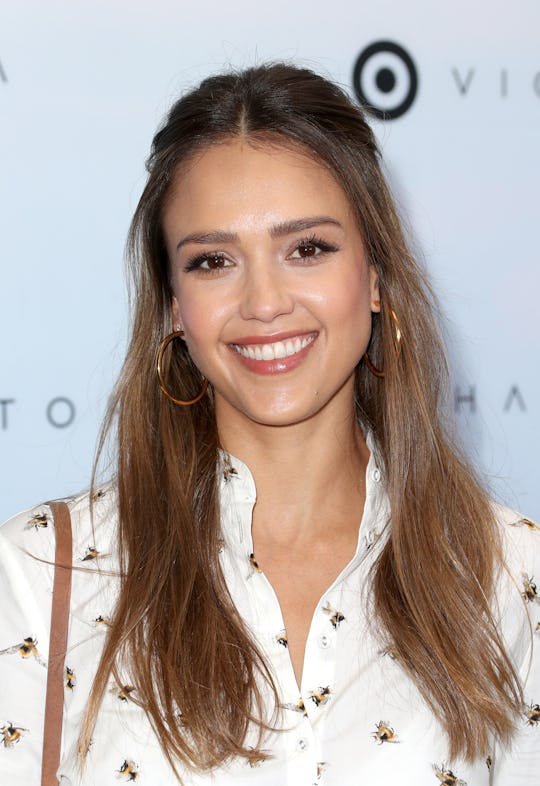 Frederick M. Brown/Getty Images Entertainment/Getty Images
Jessica Alba's Photo Of Herself Breastfeeding At Target Is Seriously So Relatable
It happens to the best of us. You're trying to sneak in a little shopping while the baby sleeps, those blissful moments when you think you might have a little freedom and your limbs to yourself, then they wake up. They want to be fed now. Right now, no waiting. So you drop what you're doing and you feed the baby. Even if you're a celebrity and a famous entrepreneur with perfect eyebrows; if your kid is hungry, you can't pull status. Which is why Jessica Alba's post about breastfeeding at Target is so refreshingly relatable. Because not only is she shopping at Target, bless her, but when her 3-month-old baby Hayes got hungry, the girl slipped into a dressing room to do the same thing all moms do; she settled in to feed him.
The 36-year-old mom of three was apparently out doing a little discount shopping at Target on Friday with her son Hayes Alba Warren when the baby got hungry. She posted her experience of breastfeeding the baby with the captions "Tired eyes," and "Breastfeeding in a Target dressing room." And honestly, I've never felt closer to the Honest Company founder. I, too, have breastfed my sons in several discount dressing rooms. So now we're basically best friends forever.
Alba, who is married to Cash Warren and is also the mother to two daughters, 9-year-old Honor and 6-year-old Haven, is obviously no stranger to multitasking. The Dark Angel actress runs two companies, Honest Company and Honest Beauty, and is raising three children at the same time. One of whom, baby Hayes, was born on New Year's Eve. But this mom is taking it all in stride; she's been posting breastfeeding positive pics on Instagram and Instagram stories, even a few of her feeding her little boy at the Honest Company offices.
Despite being on maternity leave, the busy mom admitted in an Instagram post that she struggles with the concept of "unplugging."
Went into my @honest office today for a board meeting, although I'm still technically on mat leave. Not gonna lie, it's impossible for me to completely unplug from work ...and it felt nice being back -even though it was just a half day. Baby boy came to visit/eat at lunch. Felt very productive today.
Once Alba was able to get a little work done at the office, she seemed ready to go home to catch up on a little snuggling time with baby Hayes. And also catch up on Season 4 of Grace and Frankie on Netflix, because like I said; the girl knows how to multitask with the best of them. She shared a snap of Hayes napping and captioned the content-looking selfie:
Tuesdays/all the days w my Hayes #chillin watching @graceandfrankie -I'm on season 4 and I don't want it to end
Alba and several other celebrity moms like Pink and Olivia Wilde are leading the charge to normalize breastfeeding, anywhere and anytime. Perhaps because babies tend to want to eat anywhere, anytime, and don't care so much about making people uncomfortable.
But beyond that, I think Alba is making a difference in other ways. She's painting an honest picture of what motherhood looks like for her. It's easy to get caught up in the either/or choices we seem to be fed as moms; you're either a working mom or a stay-at-home mom. A breastfeeding mom or a bottle feeding mom. Like there's this line drawn in the sand in all parenting decisions and you have to pick your side.
So it's refreshing to see a mom like Alba, someone who admits she loves work but also loves having a chill day with her baby. Someone who shops at Target, who is breastfeeding in dressing rooms, but also owns a seriously important company.
Not everything is either/or in this world. And I sort of love Jessica Alba for proving that point with a few simple pictures.