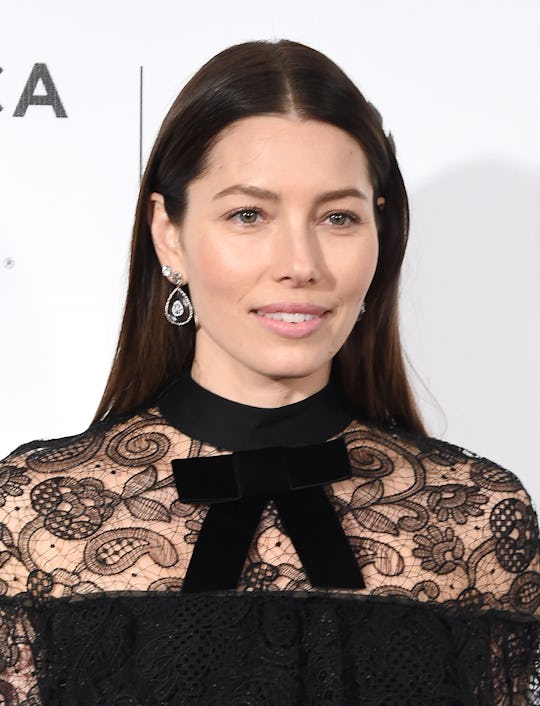 Ilya S. Savenok/Getty Images Entertainment/Getty Images
Jessica Biel Says She's "Terrified" To Wear Certain Clothes Around Her Son, Obviously
Once upon a time, I had this favorite Benneton cardigan. It was white with navy piping. It made me look like I was someone who ate fruit on purpose and went swimming in the ocean all the way over my head for fun. I loved that cardigan. And then I had a baby, whose hobbies included vomiting and diarrhea. Bye-bye Benneton cardigan, hello decades of leggings and t-shirts. I thought about my dearly departed cardigan when I read about Jessica Biel saying she is "terrified" to wear certain clothes around her baby, Silas. Because yes, Jessica, even when you are a beautiful famous woman... this is your life now too. Welcome.
It turns out, Biel's 16-month-old baby boy, Silas Randall (her first with husband Justin Timberlake) treats his mom's wardrobe with the same blatant disregard as a non-famous baby. Biel told People on Wednesday at the Levi's Brand Back To School Event in West Hollywood that it isn't even just about wearing more casual clothing:
I have always been more of a casual dresser in general, but definitely [since] becoming a mom, I just find myself constantly dirty.
I have a feeling that her version of looking dirty and mine are not one in the same (I'm picturing tastefully ripped jeans and a messy bun with shiny skin on Biel), and yet I find myself smiling. Because her kid is kinda-sorta messing with her too.
Biel is loving being a hands-on mom, even if it means getting creative with her outfit choices. She told People:
It's been this interesting evolution of, "Okay, what can I find that's going to be durable that I can wear and maybe throw a heel on if I need to do a quick transition from day to night and that I'm not gonna spend a bazillion dollars on and then it gets ruined?"
Her strategy for when she really needs to break out the goods, like an all-white dress for a big movie premiere or something? As with most fun things for moms, she waits until the kid is asleep. "I pick things that I don't wear when my kid's awake or [I'm] anywhere near him," she joked, "because I'm terrified."
While it might be a juggling act, Biel's not complaining. As she told In Style at the same event, the beauty of motherhood is the wonder in your baby's eyes:
The discoveries they have on a daily basis. The first time they notice the stars, and then the first time they notice that you turn the faucet and the water comes on and it's like, the greatest thing that's ever happened.
It is pretty amazing.
But so was my Benneton cardigan.