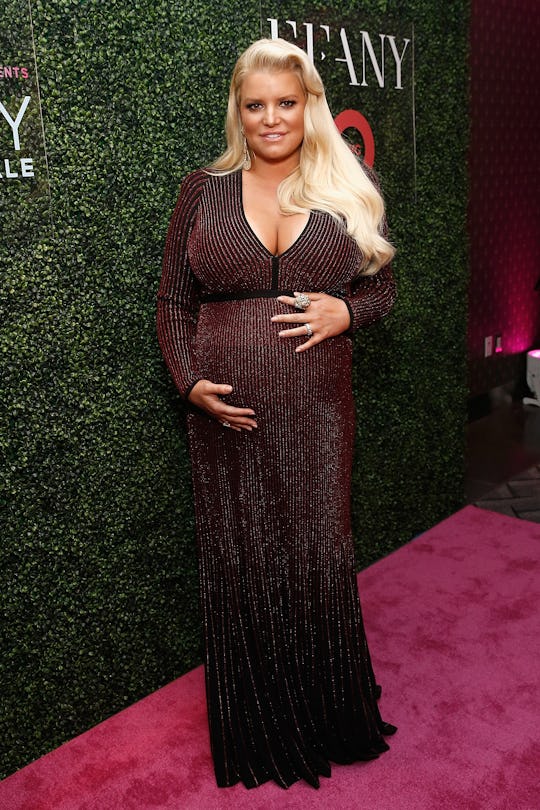 Brian Ach/Getty Images Entertainment/Getty Images
Jessica Simpson's Kids Have A Lot Of Questions Now That She's Pregnant Again
Even though she's definitely not hiding the fact that the news was totally unexpected, mom-of-two Jessica Simpson is thrilled to be pregnant again. She and husband Eric Johnson confirmed in an Instagram post in September that they were set to welcome their third child together — a baby girl — and it sounds like the entire family is super excited about it. But it also sounds like Jessica Simpson is fielding some awkward questions about pregnancy from her kids now that they've become curious about the baby growing in their mom's belly, and it's pretty funny.
On Thursday, Simpson spoke to Entertainment Tonight about her kids' reaction to her pregnancy, and said that it's been a really special time for all of them. That's, in part, because they're both old finally enough to really grasp the idea: Simpson's 6-year daughter, Maxwell, and 5-year-old son, Ace, are only 14 months apart, meaning that neither of them really got to experience what it was like to see a new baby coming into the family. But with the excitement also comes plenty of inquisitiveness: Simpson said her kids ask her "the craziest questions that [she] can't say on TV ... 'How does the baby come out?' 'Where does the milk come from, I don't understand!'"
While every parent whose ever been asked about the birds and the bees has their own approach to how they'll respond, Simpson said her strategy is just straight-up honesty. The only issue? It can be tricky to determine exactly what an age-appropriate response looks like. She joked, "I'm a little bit too honest, and Eric's like, 'I don't think we need to give out ALL the information, Jessica.' So, I'm scaring my kids, I think."
Simpson hasn't specifically shared what information she's given her children about pregnancy and childbirth, but it's not exactly surprising to hear she's taken a straightforward approach. The fashion mogul, after all, is known for her tendency to say whatever is on her mind, and she also happens to be totally down to discuss her sex life publicly: when she was pregnant with her daughter, Maxwell, in 2012, for example, she told Ryan Seacrest that pregnancy made her "kind of unstoppable" in the bedroom, according to The Huffington Post, and revealed that "the big 'O' is like the biggest 'O' ever." And this time around, she told ET that, even though she had "baby fever," there was a reason the timing of her pregnancy felt like a bit of a surprise. Simpson said,
I thought about [having another baby], but I didn't really know that it could actually happen. We definitely always love to practice. We actually weren't practicing very much that month so I don't understand ... This might be a miracle baby.
But Simpson likely wasn't the only one surprised by the pregnancy news — her fans probably didn't see it coming, either. In a 2017 interview with Ellen DeGeneres, the singer said that she definitely felt done having kids, and quipped, "We got an IUD. Nothing's gonna get in that uterus."
From the sounds of it though, the couple's change of heart has more than worked out for the best: in an Instagram post confirming her pregnancy, Simpson shared photos of Maxwell and Ace eagerly anticipating the baby's balloon-filled sex reveal, and the sweet moment they all learned that their newest family member would be a little girl.
In other words, why it might be pretty uncomfortable that she has to answer all kinds of intimate questions about reproduction from her curious kids, it's still been more than worth it to enjoy the experience of having her children just as excited about her pregnancy as she is. And honestly? While Simpson and Johnson's baby-girl-to-be may not have been planned, it definitely sounds like when she arrives, she'll be greeted with a lot of love.