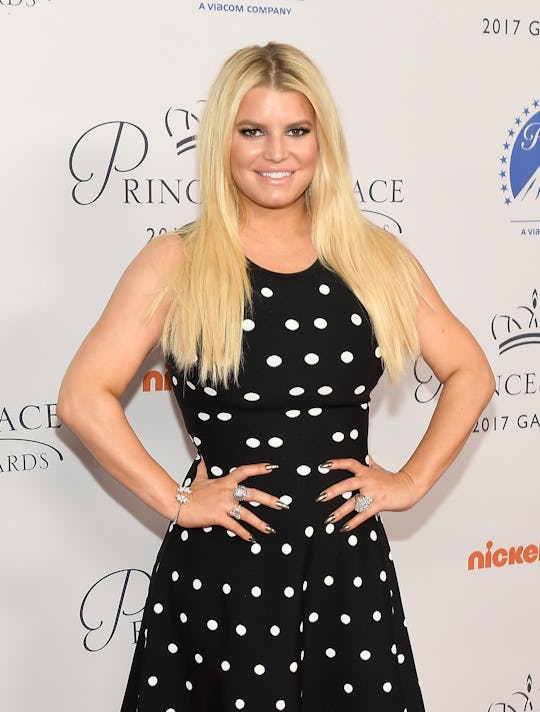 Matt Winkelmeyer/Getty Images Entertainment/Getty Images
Jessica Simpson Shut Down Mom-Shamers With One Fiery Hashtag, & Fans Definitely Noticed
Throughout the past few months, Jessica Simpson's parenting choices have upset a lot of fans. From Simpson's decision to take her daughter to a MAC makeup store (the horror), to her daring to take a sexy selfie, she can do nothing right, apparently. And because Simpson is keenly aware of her haters, she felt compelled to carefully caption a photo she shared to Instagram on Monday of her 3-year-old son roasting marshmallows over an open fire. But while one might think that Simpson's precaution got rid of her critics, the reality is she continues to face a frustrating amount of backlash. Yep, people are annoyed that Jessica Simpson is defending herself against mommy-shamers, and it's proof that this practice has reached a concerning new level.
The last time Simpson got major hate for a parenting decision was in February 2017. Simpson, to the chagrin of her critics, decided to treat her 5-year-old daughter, Maxwell, to a trip to the MAC store. Sadly, it wasn't long before people started attacking an adorable snap Simpson shared of the outing — from comments about what activities are supposedly more appropriate for a child to accusations that she's a bad mom, people were relentless. And it's likely the overwhelming backlash frustrated and even possibly hurt Simpson, because she's now mindfully crafting her Instagram posts.
"After school s'mores," Simpson captioned a shot of her son, Ace, roasting a marshmallow via a fireplace, according to Instagram. "#AdultSupervision #AceKnute."
Did you happen to catch wind of the #AdultSupervision hashtag? By the looks of it, Simpson tried to get a head start on the mommy-shaming by informing her followers that Ace wasn't hanging out with a roaring fire unattended.
A few of Simpson's eagled-eyed followers who also noticed the hashtag found the detail funny. "Ha! I love #adultsupervision," one amused person wrote. "I used to roast marshmallows on a candle with my mom growing up."
"Great pic, and you crushed the mom shamers before they started whining,😂" another person added.
Others, however, found it irritating that Simpson decided to use the hashtag. Apparently, Simpson is doing the wrong thing by supposedly "justifying" her parenting to others.
"I wasn't supervised. Burnt my hand and never went near the fire again! Simple," a straight-forward critic penned. "Justifying yourself as a mother to people you don't know? #cracked."
Another fan imagined a scenario in which Ace is annoyed that his mom opted to use the hashtag: "He's [Ace] like, 'ughhh... Mom!!!! Why do you hashtag #adultsupervision.... when you took the pic and then you posted it! Obvious adult supervision, MOM!'" Although the fan admitted that the hashtag is a bit much because it states the obvious, they also argued that it might be necessary because "not all journalists are as smart as kids."
Of course, Simpson doesn't have to justify her parenting to anyone. But what's also true is that Simpson doesn't have to offer an explanation as to why she chooses to defend herself against mommy-shamers — to critique her for being critiqued is a bit much, to say the least. And most importantly, it suggests that people are nitpicking Simpson for the sake of nitpicking. One has to wonder why Simpson or any parent, for that matter, deserves to be subjected to that kind of negativity.
Instead of hating on Simpson for using the hashtag, it might be more helpful to question why she felt the need to use it in the first place.
"Unfortunate you have to put adult supervision, as to not be chastised," a frustrated follower said.
Someone else added: "It's sad that you have to state Adult Supervision before someone says something."
And one fan, who seems quite supportive of Simpson, wrote:
So sad that you have to mention that there is Adult Supervision, knowing that if you don't...you will get backlash of negative comments regarding safety/parenting. @jessicasimpson ...you're doing great with your Beautiful family.
While it remains unclear if Simpson will continue to use tongue-in-cheek hashtags in her messages, it's clear that people could be more understanding of her situation. Being a parent in the public eye isn't easy, and Simpson is clearly trying her best to navigate these tricky waters as best as she possibly can.
Check out Romper's new video series, Bearing The Motherload, where disagreeing parents from different sides of an issue sit down with a mediator and talk about how to support (and not judge) each other's parenting perspectives. New episodes air Mondays on Facebook.