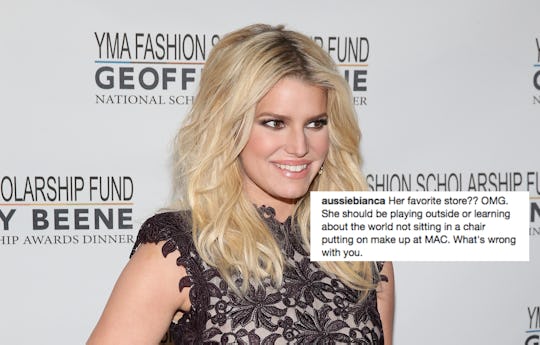 Neilson Barnard/Getty Images Entertainment/Getty Images
People Are *Freaking Out* Because Jessica Simpson Took Her Daughter To A MAC Store
When you're a celebrity parent, the internet can be a treacherous place. People have a lot of opinions about how famous people choose to raise their kids for some reason, and the nitpicking can be downright cruel at times. Unfortunately, singer-actor and mom Jessica Simpson is a frequent target for mom-shamers, and it seems like she can't do nothing right when it comes to her two kids, Maxwell and Ace. Most recently, fans slammed Simpson for reportedly dyeing Maxwell's hair for Halloween, a move that *enraged* commenters. And if you couldn't handle that mom-shaming debacle, there's a good chance you'll roll your eyes at this new attack on Jessica Simpson's parenting.
On Tuesday, Simpson took to Instagram to share a sweet photo of herself and her 5-year-old daughter, Maxwell, enjoying a mommy-daughter day at MAC Cosmetics. In the snap, Maxwell puckers her lips to show off her purple lipstick, a pose that Simpson also mimics. By the looks of it, Simpson and Maxwell are having a blast. It looks like a photo any parent would post to social media, in my opinion, and I'm sure Simpson thought nothing of it when she posted it on Instagram.
Simpson captioned the shot, according to Glamour:
This is NOT an #ad, @maccosmetics is my daughter's favorite store! Mommy-Daughter Day with #MAXIDREW #girlygoth.
Of course, fans were quick to turn the cute moment into a scathing assessment of Simpson's parenting skills. Many people called Simpson out for allowing Maxwell to wear makeup (shocker) and for the location of the outing.
One fan on Instagram said: "Her favorite store?? OMG. She should be playing outside or learning about the world not sitting in a chair putting on make up at MAC. What's wrong with you." Another said: "Way too young for that to be her favourite store."
So, yeah. People were not pleased that Simpson dared to take her daughter to a popular makeup store. Go figure.
For starters, fans are taking it upon themselves to inform Simpson of her daughter's alleged interests, which is just ridiculous. It's more than possible that Maxwell actually enjoys wearing makeup and shopping, and those hobbies are totally OK. In fact, Simpson's Instagram feed is a testament to how much Maxwell appears to enjoy these kind of activities. Not to mention Simpson once had her own makeup line — it's likely her interests rubbed off on Maxwell.
Second, there's nothing wrong with a young person playing around with makeup. Gwen Stefani's son, Kingston, has sported makeup before, and Tori Spelling's daughter, Stella, wore lipstick on Thanksgiving. Makeup can be a form of expression and play for kids, which is fine.
And lastly, it's no one's business how Simpson chooses to spend time with her daughter. Instead of tearing Simpson's parenting choices down, it would be more productive to praise this mom-daughter moment. Simpson clearly makes an effort to spend one-on-one time with her kids, which is really great. Many child psychologists and child development experts claim that one-on-one time with parents can make kids feel especially loved and supported.
Following some of the negative comments on Simpson's post, other fans came to her defense. One person wrote: "It's A Taurus thing lol. My daughter is the same way Loves MAC." Another said: " Love mommy daughter days."
Sadly, this likely won't be the last time Simpson will be shamed for her parenting. Criticism is par for the course when you're in the public eye, and I imagine a lot of famous people don't even entertain most of the negative chatter. Still, I wish fans would leave kids out of the discussion — it goes without saying that little ones shouldn't be subject to criticism.
Check out Romper's new video series, Romper's Doula Diaries:
Watch full episodes of Romper's Doula Diaries on Facebook Watch.