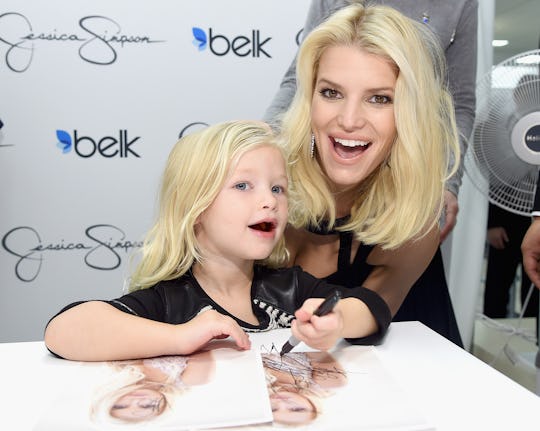 Jamie McCarthy/Getty Images Entertainment/Getty Images
Jessica Simpson's Tip For Getting Her 4-Year-Old To Sleep Is Already A Fan Favorite
My children were terrible sleepers. Epically terrible sleepers. The kind of toddlers who weren't invited over to people's homes because nobody wanted to go a night without any sleep. To this day, when a friend has a baby my first question is, Are you getting any sleep? Because nobody really warned me, nor gave me any constructive tips on how to get my darling sons to sleep. Maybe if I had seen Jessica Simpson's brilliant tip for getting her 4-year-old to sleep I would have been better equipped. Instead it was just years of exhausted weeping in the bath tub.
The singer and clothing designer is the mother of two of the cutest kids ever; 5-year-old daughter Maxwell and 4-year-old son Ace Knute with husband, former NFL player Eric Johnson. And, like every parent out there in the known universe, she seems to be pretty excited about getting her kids to get a little shut-eye. So she shared a nice new bedtime routine on Instagram that she's been enjoying with son Ace; a chart. With stickers and such, because we all know that there's no point to trying to teach a 4-year-old anything without the promise of stickers. And the adorable little guy gave it the thumbs-up.
Now before you go thinking that I'm giving Jessica Simpson all the credit for the concept of a bedtime routine chart, I'm not. Bedtime routine charts with stickers that help reinforce good habits like brushing your teeth, having your bath, etc. already existed, obviously. But a little celeb endorsement never hurt anybody. And endorsement from the kid himself? That's gold. Moms took to Simpson's Instagram post to share their appreciation for a hot sleep tip:
Ohhh thats smart. Noted for future use!
maybe something visual and immediate reinforcement like this will help?
You're such a great momma!!! All these routines and goals are so important to foster their independence! We don't like working for free and neither do our kiddos. Lol
While it's difficult to see the exact bedtime routine chart Simpson was using, here's a printable close approximation for parents who are desperate for their kids to get a little shut eye. The chart includes a daily reminder to:
Brush your teeth
Use the potty
Wash your hands/take a bath
Read a book
Lights out
Stay in bed until morning (this is hands-down my personal favorite and should have three stickers on it for added incentive)
The good news for Simpson is that this will be her last time trying to figure out bedtime routines for kids. She told Ellen DeGeneres in a May 2017 interview on Ellen that she and her husband were finished having children after she was dealing with some pregnancy rumors. She told the television host that she had an IUD and "nothing was getting in that uterus:"
I have two beautiful children and I'm not having a third. They're too cute and you really can't top that.
Also as the kids get older she'll have more time to spend with her husband, I guess. And Simpson seems like she wouldn't be averse to more time with her guy.
Here's hoping this bedtime routine chart helps a few parents out there. In the meantime, here are a few extra suggestions that might help you out from a mom of four (me); give it time. Like a few years, maybe. Or drive them around in their car seats to make them fall asleep. Or just lie down with them and fall asleep yourself; it's a phenomenon I've never understood, but kids always fall asleep staring at their parent's sleeping face. Try it out. I mean, it's no cool chart with stickers or anything, but anything to get kids to sleep is worth a shot.