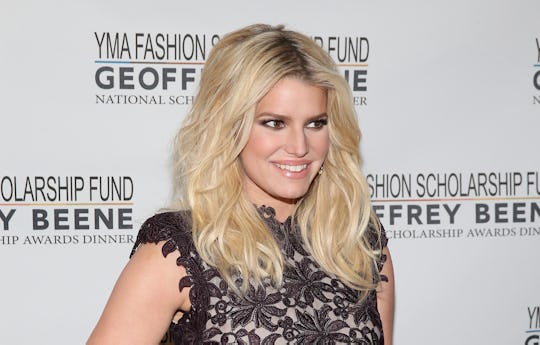 Neilson Barnard/Getty Images Entertainment/Getty Images
Jessica Simpson Is Pregnant With Baby No. 3 & Just Shared The Most Glamorous Bump Photo
That Jessica Simpson is a bit of a dark horse. She recently announced she was pregnant again and sort of took everyone by surprise on a sleepy Tuesday. Although to be fair to her, isn't that sort of the celebrity trend now? To hide your pregnancy and then burst on to the social media scene with the announcement, followed by pictures of your baby bump in quick succession? If that truly is the trend, this girl is all over it. Because not long after she announced her pregnancy, Jessica Simpson's first bump photo with baby number three hit the internet. And so begins our journey with the singer/clothing designer and her third pregnancy, I suppose.
Simpson and her husband, NFL football player Eric Johnson are already parents to two sweet little kids, 6-year-old daughter Maxwell and 5-year-old son Ace. On Tuesday she took to Instagram to reveal not only that she was expecting her third child, but also that the family were expecting a baby girl. She shared her news with her family beside her to help reveal the baby's sex and the sweet caption, ""This little baby girl will make us a family of five. We couldn't be happier to announce this precious blessing of life."
And not long after that first post, she shared this gorgeous bump photo.
The "Irresistible" singer managed to pull off a black caftan and round sunglasses, long blue nails cradling her baby bump, in a way I honestly haven't seen done well since the Seventies. I would almost be willing to get pregnant again just to see if I could pull off this look myself. Almost.
Simpson's pregnancy might have come as a shock to fans for several reasons, not the least of which being that she told Ellen DeGeneres during an interview on Ellen last year that she and Johnson had no intention of welcoming more kids. Why? Apparently because her kids were just that beautiful, according to Huffington Post:
I have two beautiful children and I'm not having a third. They're too cute ― you really can't top that.
She also told DeGeneres in that same interview that she had an IUD put in to make sure that "nothing's gonna get in that uterus." But I suppose plans have changed. Back in April, Simpson seemed to be having something of a change of heart about that third baby. The fashion designer told Entertainment Tonight that she and Johnson were "always practicing" to have a baby and even admitted she was starting to feel those good old-fashioned baby fever pangs. At the time it sort of just seemed like she wanted to brag about the fact that the couple were still really into each other, but now it turns out that there was definitely some truth to the idea of a third child.
Now that Simpson and Johnson have let the cat out of the bag, their fans will be watching for more details about the pregnancy and impending arrival. For instance, when exactly the baby is due to be born since they haven't quite shared that much information just yet. It's only been a few hours since Simpson announced her pregnancy, so I guess we'll have to just wait for more news. As of right now, a source close to the couple told People that the family is really just enjoying the moment:
They are SO excited. Maxwell and Ace cannot wait — and it was a very happy surprise.
All I can tell you is this; if Simpson plans on sharing bump photos wearing amazing caftans, she's going to have to start giving us all details on where to find them. It's only fair.